NewsWatch says goodbye to Payton Green
For the past four and a half years Payton Green has worked for NewsWatch as an anchor, producer and station manager. NewsWatch took the chance to say goodbye to him as he graduates this semester.
Click to view the Tribute VIDEO:

---
Ole Miss student media leaders offer advice to high school journalists at regional workshop
On Saturday, Sept. 3, the Journalism Education Association and the National Scholastic Press Association partnered to host a free workshop for journalism students and teachers in Mississippi and surrounding states. The event was at Lafayette High School, and featured Ole Miss student media leaders in a panel discussion about working for college media. Pictured, left to right: Sarah Nichols, vice president of the Journalism Education Association; Lana Ferguson, managing editor of The Daily Mississippian; William Wildman, yearbook writing editor; Ariel Cobbert, Daily Mississippian photo editor; Marisa Morrissette, yearbook and Daily Mississippian designer; Payton Green, NewsWatch manager; and Patricia Thompson, assistant dean for student media.
---
2015-16 Student Media Leaders
By Taylor Morton
As their time as managers ends, we say farewell and thank you. They are headed to jobs and internships in New York, Los Angeles, Chicago and Orlando.
Amy Hornsby (Rebel Radio)
Amy Hornsby climbed her way up at Rebel Radio, from DJ, to marketing director, to interim station manager, to station manager.
WUMS-FM 92.1 Rebel Radio is one of the few college student-run commercial FM radio stations in the country. The station broadcasts 24 hours a day, 7 days a week, and boasts a signal stretching nearly 40 miles across North Mississippi.
Hornsby is a junior integrated marketing Ccmmunications major from Starkville.
"Delegation has been the greatest challenge in this role," Hornsby says. "You have to learn how to ask for and accept help from the people you work with. I'm proud of the things we do all the time, both on and off the air."
Hornsby says the Student Media Center has been a gift to her.
"The Student Media Center has guided me. It helped me make new friends, get used to campus and meet older students who became my mentors and got me on track to find the best major for me."
Additionally, Hornsby says she learned vital professional skills, such as teamwork, delegation and time management through her role as station manager.
"Amy Hornsby has just done a terrific job with radio this year," said radio adviser Roy Frostenson. "She's organized, dedicated and enthusiastic, all great traits for a radio station manager. She has assembled a great staff and they all work together very well which is a testament to Amy as a leader."
Hornsby will spend fall semester 2016 in Orlando as a merchandising intern with the Disney College Program. After graduation in May 2017, she hopes to get involved in marketing for theater. Her ultimate goal is to combine the things she knows best: marketing, theater and radio.
---
Logan Kirkland (The Daily Mississippian)
Logan Kirkland didn't start Ole Miss as a journalism major.
The senior from Tuscaloosa, Alabama, says friends encouraged him to take a journalism course. He realized how much he enjoyed interacting with people and telling their stories. He began writing for The Daily Mississippian, and remembers being excited when he saw his first byline in print.
Kirkland was a DM news editor during his junior year. After covering major stories on campus, he decided he wanted to take what he loved to the next step, and applied to be editor in chief for 2015-2016. He graduates this month with a bachelor of journalism degree.
He says his greatest challenge this past year has been making decisions about whether or not something should be published. "The subject matter can be touchy," he says. "You want reaction, but you want it to be tasteful."
Kirkland says he is most proud of his staff this year for the role it played in covering the campus controversy over taking down the state flag.
Patricia Thompson, director of student media and faculty adviser for The Daily Mississippian, praised Kirkland for his leadership of his staff and his individual work. The Society of Professional Journalists, for the second year in a row, has named The Daily Mississippian as one of the Top 3 best all-around student newspapers in the nation. Kirkland has won first-place awards in several contests for his writing and photography, including a multimedia project he produced from a journalism trip to Ethiopia.
"Logan is an ambitious, talented young journalist with a variety of skills that make him very marketable in this digital age," Thompson says. "In addition to his editorial strengths, he has been an outstanding leader for the DM. There's never a dull moment when Logan is in the newsroom. We will miss him, and we know he will have a successful career."
This summer, Kirkland will work as a photo assistant at Harper's Bazaar in New York. He said he would ultimately like to be a conflict photographer, working to document topics like conflict, war and poverty.
"I'm going to miss this place a lot," Kirkland said. "I'm going to miss the staff and what we did on a daily basis."
---
Mallory Lehenbauer (The Ole Miss yearbook)
Mallory Lehenbauer's interest in the yearbook began when she applied for a position as yearbook writer her freshman year at Ole Miss. While she was a graduate assistant in the Student Media Center last year, her passion for the yearbook recurred.
Lehenbauer, a second-year graduate student in the Meek School's integrated marketing communications program, received a bachelor's degree in English and Southern Studies from Ole Miss in 2014. As an undergraduate, Lehenbauer worked in several writing and editing positions at The Daily Mississippian – including a summer as DM Editor in Chief.
"Mallory has been a valued member of student media for several years," says Patricia Thompson, director of student media. "I was delighted when she applied to be yearbook editor. I knew that with her talent as a writer, editor, designer and leader, the yearbook would be in good hands and that she would lead her staff to produce a beautiful publication. She also used her IMC training to create branding and social media marketing for the yearbook."
Published for the first time in 1896, The Ole Miss annual is the student yearbook that provides a permanent record of each year as seen and told by student staff.
The 2016 yearbook was distributed to students in late April.
Lehenbauer attributes much of The Ole Miss' success to her staff. "They're all amazing people and they make my job really easy," she says.
"On a personal level, the Student Media Center has given me relationships with my peers that are forever. On a professional level, it has taught me to work in a fast-paced environment, meet deadlines and take criticism," Lehenbauer says. "It is a mini professional environment hidden on the Ole Miss campus."
Lehenbauer graduates this month, and is interviewing for jobs in Chicago.
---
Evan Miller (Advertising)
Evan Miller is a senior integrated marketing communications major from Decatur, Illinois. Evan's father is a salesman, so he grew up knowing all about the demands and rewards of the career.
As the advertising manager for the past year and a half, Miller is most proud of hitting staff sales goals. He said the most rewarding part of his job has been helping new employees make their first sales.
"The Student Media Center has provided me with the opportunity to get real-world sales experience in a part-time setting," Miller says. "It has been great for me."
Roy Frostenson is the SMC assistant manager in charge of advertising. "In sales you're only really measured one way and that's by performance and the sales staff has performed extremely well under Evan's leadership," Frostenson says. "Our ad sales are up this year over last year and that's to Evan's credit. Evan does a good job working with our staff and making sure our advertisers are getting value for their investment with us."
Miller graduates this month and has accepted a full-time sales job with Yelp in Chicago.
---
Browning Stubbs (NewsWatch)
Browning Stubbs, a senior broadcast journalism major from Memphis, is well acquainted with the Student Media Center. He has worked in almost every platform of the Student Media Center, and has worked his way up at NewsWatch.
Stubbs loved the arts from a young age, but his passion for live television began in high school. He started an online sports network that broadcast more than 50 sporting events throughout the year. He would give play-by-play commentary on-air.
"From that moment on, I knew I wanted to do TV," Stubbs says. "I had acted in films and in plays, but I just really liked being live. There is so much hard work and pre-production, and when you can turn that into something live, it's just magical."
NewsWatch Ole Miss is the only live, daily, student-produced newscast in Mississippi, and the only local television news broadcast in Lafayette County. The 30-minute program airs live 5 p.m. on channel 12, the university's cable station, and is live streamed on theDMonline.com. A repeat broadcast airs at 10 p.m. on channel 12.
Stubbs worked his way up at NewsWatch from sports anchor, to sports director, to newscast manager.
"As I moved up with NewsWatch, I got to learn everything about it. I learned how to break a news story, how to put graphics together, how to edit video, how to produce a show, how to make sound, how to operate cameras. I just wanted to broaden my knowledge and learn everything I could."
Stubbs also worked as a sports DJ for Rebel Radio, and as the basketball beat writer for The Daily Mississippian. He even has an article in the 2016 yearbook.
Stubbs says the most challenging part of his job was covering controversial topics, making sure everyone was ready to go at 5 p.m., and working to change the name of the show to NewsWatch Ole Miss. He added more sports coverage to NewsWatch by creating a Friday show called RebelWatch.
Stubbs and his NewsWatch staff have been honored this year with awards in several contests. NewsWatch, for the fifth year in a row, was named best college newscast in the state by the Mississippi Associated Press Broadcasters organization.
"The Student Media Center is my second home. It has gotten me job offers, won me awards and made me really happy. I love this place," Stubbs says. "Because of the Student Media Center, I feel like I'm qualified for a lot of jobs. The Student Media Center has given me opportunities in every field."
Nancy Dupont is faculty adviser for NewsWatch. "Browning's dedication to TV journalism is obvious to anyone who meets him," she says. "He throws himself, heart and soul, into every newscast. He knows how to lead a team to get the best result possible. He's a wonderful student to work with."
Stubbs graduates this month, and has a production internship with ESPN in Los Angeles.
Stubbs plans to use what he has learned at the Student Media Center in his career. "I hope I have a successful career and can give back to this place one day," he says.
---
---
President Obama answers Meek School student's question at College Reporter Day briefing
When Juan Oropeza came to the U.S. as an undocumented immigrant 25 years ago, he couldn't have imagined that his daughter would one day ask the president about immigration policies. But that's what happened in the White House Briefing Room last week when Daniella Oropeza, a junior in the Meek School of Journalism and New Media, raised her hand and was called on by President Obama.
"We weren't supposed to meet the president, so I was shocked he came into the room and shocked that he called on me, " Oropeza said. She was chosen as one of 50 college journalism students to participate in the first White House College Reporter Day.
President Obama answered a few questions from students, and called on "the young lady right there in red." When Oropeza began her question, her first words were, "Hey, I'm Daniella," which prompted President Obama to teasingly interrupt by saying, "Hey." He gave a lengthy answer to her question about whether his administration will make any further changes in its Mexican immigration policy.
Oropeza's question got attention. Immediately after the press conference with the president, Oropeza was interviewed by CBS News. She then received emails from Univision and Telemundo, the two Spanish-language networks, asking her for interviews, which she conducted in Spanish and English.
"It was very exciting. I didn't expect to see President Obama and I didn't expect what came after with the interviews," Oropeza said. "It was the experience of a lifetime."
Oropeza, of Clinton, Mississippi, had an internship last summer at WAPT-TV in Jackson. She worked last summer as a sales and marketing intern at WTAE-TV in Pittsburgh, Pennsylvania.
Oropeza traveled to D.C. with her mother and grandmother. They drove 14 hours from Mississippi to the nation's capital and stayed for two days. On their way back to Oxford, they stopped for lunch at a Mexican restaurant in a small town in Georgia. While paying for their food, the waiter asked: "I'm sorry, but I just have to ask, were you on the news a couple of days ago?"
"I was speechless," Oropeza said, "but my grandmother was quick to say, 'Why yes, she was!' After paying our check, our waiter came back with his phone in hand and showed us a clip of my question to the president from the White House account on YouTube. That lunch still feels like a dream."
White House College Reporter Day was on April 28. It was designed as an opportunity for student journalists to talk to senior administration officials about issues as varied as sexual assaults on campus and student loans. Students were selected based on applications they submitted, and they had a full day of events and briefings at the White House, including sessions with Press Secretary Josh Earnest, the White House Press Corps, White House Chief of Staff Denis McDonough, Senior Advisor Valerie Jarrett and Secretary of Education John King.
Near the end of the day, President Obama walked in, saying, "I hear there's some hotshot journalists here." USA Today reported that you could hear "audible gasps and freak-outs from the unsuspecting students."
At 3:28 p.m. that day, Oropeza tweeted: "When your Mom is so excited that you spoke with the POTUS that she can't even type."
Oropeza's coverage of College Reporter Day aired on NewsWatch.
---
Ole Miss broadcast students dominate MAPB awards
UM broadcast students won 20 awards in the Mississippi Associated Press Broadcasters annual contest for college students, including best newscast for the fifth year in a row for NewsWatch.
Shelby Sansone was named the state's outstanding student television reporter, and Steven Gagliano was named outstanding radio reporter. They each won cash scholarships. UM television and radio students won nine first-place awards.
Dr. Nancy Dupont, Meek School professor, NewsWatch adviser and president of the Mississippi Associated Broadcasters Board for 2015-2016, was honored for her service.
The awards were presented Saturday night in Jackson. The college categories had 51 television entries and 23 radio entries from five Mississippi universities. The contest year covered work produced during spring and fall semesters 2015.
Here are details:
First-Place Awards:
College Television
Best Newscast: NewsWatch, for its Oct. 21 newscast
Best Feature Story: Sereena Henderson and Ji Hoon Heo, St. Mark's Episcopal Church 10 years after Katrina
Best News Story: Shelby Sansone, Dan Jones rally
Best Sportscast/Sports Program: Browning Stubbs and David Kennedy, Oxford Chargers state championship preview
Best Documentary or Series of Stories: Atomic, Mississippi, produced in a course taught by Dr. Brad Schultz and Dr. Kathleen Wickham
College Radio
Best Feature Story: Steven Gagliano, end of semester feature
Best News Story: Steven Gagliano, state flag removal from campus
Best Sports Story: Riley Mueller, concussion study
Best Documentary or Series of Stories: Riley Mueller, concussion study
Other awards:
College Television
In addition to the first place awards NewsWatch also won:
2nd Place Best News Story: Kelly Savage, state flag removal
2nd place, Best Sports Story: Browning Stubbs, Tip Six, Alabama game
3rd Place Best News Story: Browning Stubbs, metro narcotics unit investigation
3rd Place Best Newscast: Sept. 21 newscast
3rd Place Best Sports Story: Waverly McCarthy, Who is Chad Kelly
3rd Place Best Sportscast: Nov. 20 RebelWatch
College Radio
2nd Place Best Feature: Riley Mueller, fitness instructor
2nd Place Best News Story: Steven Gagliano, new chancellor
2nd Place Best Newscast: Meredith Parker
2nd Place Best Sports Story: Steven Gagliano, women's soccer
2nd Place Best Sportscast/Sports Program: Steven Gagliano
The MAPB ceremony also included awards to professional broadcast journalists in the state. Among our recent graduates who won first-place awards: Courtney Ann Jackson (WLBT), Gerard Manogin (WJT) and Ryan Moore (WDAM).
---
UM student journalists receive 28 awards at conference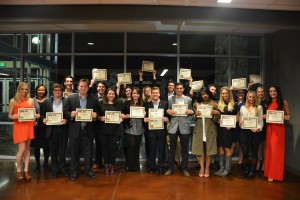 University of Mississippi students left the annual Southeast Journalism Conference with two of the top prizes: Grand Championship Team for the on-site competitions, and College Journalist of the Year.
Sudu Upadhyay, a junior journalism major, won first place and $1,000 in the prestigious Best of the South College Journalist of the Year contest. Upadhyay was NewsWatch Manager in the 2014-2015 academic year. His entry included several examples of his campus and international television reporting, a resume, an essay about his commitment and responsibility in journalism, and letters of recommendation.
The entire Student Media Center team won the grand championship for its performance in 16 on-site competitions. Points are based on how many first, second and third places each university wins.
The conference was hosted by Austin Peay University in Clarksville, Tennessee, and attracted 324 students and faculty from 27 colleges.
University of Mississippi students won a total of 28 awards in the two contests sponsored by SEJC, including eight first-place awards, nine second-place awards, and two third-place awards.
Logan Kirkland, Daily Mississippian editor-in-chief, won two first-place awards, one for special event reporter/editor in Best of the South, and one for sports photography in the on-site competition.
ON-SITES: In addition to Kirkland's first-place win for sports photography, other students who won first-place awards were Caroline Callaway, for newspaper design, and the public relations team of Tori Olker and Victoria Lanza.
Second-place winners were Drew Jansen, for news writing; Tori Wilson, for copy editing; Holly Baer, for op-ed writing; and the multimedia team of Brittany Clark, Dylan Rubino and Kelly Savage.
BEST OF THE SOUTH: Best of the South includes entries for student work produced from mid-November 2014 through mid-November 2015. This year, there were 441 entries from 35 universities. UM student media won 20 awards.
First places were won by Logan Kirkland, for special event reporting/editing, for his spot news and enterprise coverage of the IHL board decision to not renew Chancellor Dan Jones' contract; Dylan Rubino, for his sports writing and profiles in The Daily Mississippian; Kelly Savage, for television news reporting, for packages that aired on NewsWatch; Jake Thrasher, for his Daily Mississippian cartoons; and Sudu Upadhyay as College Journalist of the Year.
Second place awards went to Steven Gagliano in the radio journalist category, for reports that aired on Rebel Radio; Anna McCollum, in the journalism research paper category, for a paper she wrote in the The Press and the Changing South class; Riley Muller for radio feature reporting, for reports that aired on Rebel Radio; Kelsey Shumate for advertising, for commercials that aired on Rebel Radio; and Clara Turnage for feature writing, for a series of articles published in The Daily Mississippian throughout the year.
Other Best of the South awards: Browning Stubbs, third place in the television journalist category; Cady Herring, third place for magazine writing; fourth places for Caroline Callaway, for newspaper design, and Morgan Burger, for radio feature reporting; fifth place for Zoe McDonald, for arts and entertainment writing; seventh place for Madisen Theobald, for design; eighth place for Logan Kirkland, for press photography; ninth place for Brittany Clark for television feature reporting; and 10th place to theDMonline.com in the website category.
The Daily Mississippian won fourth place in the Best Public Service Journalism category for its coverage of the controversy over removing the state flag from campus.
Student Media Director Patricia Thompson and 19 Ole Miss students attended this year's conference. Next year's SEJC conference will take place in February at Ole Miss. Thompson is president of SEJC for the next year, and DM Managing Editor Clara Turnage is student president of SEJC.
---
Alumni Update: Laura Houston Santhanam
I'm Laura Houston Santhanam ('05), and I recently celebrated my first anniversary as the data producer for the PBS NewsHour. Every day, I use narrative and numbers to tell stories, but my path to this newsroom wasn't direct. At one point, I even thought I was done with journalism for good. I should have known better.
I grew up down the road from Oxford in Tupelo, where Niki Peel ('92) helped me get my first newspaper job as a high school sophomore stringing Friday night football coverage for the Lee County Courier and then the Northeast Mississippi Daily Journal.
After editing The Daily Mississippian and graduating a year later, I briefly worked at the Chattanooga Times-Free Press (thanks so much for your letter, Mr. Wilkie) before I returned to The Arizona Republic in Phoenix where I had interned during undergrad. At that time, journalism's shifting economic reality began to make newspapers everywhere ache. In June 2007, I decided to turn my back on the profession I had chosen as a 12-year-old and study public policy at American University in Washington, D.C.
That decision led me in 2009 to join Pew Research Center where I analyzed media trends and the news agenda. I was never too far away from the world of journalism, but I still craved deadlines, interviews and a humming newsroom. After briefly updating my online reporting skills at Media Matters for America, I itched to jump back into journalism and applied to the NewsHour.
Since then, I haven't looked back and am thankful to report the news again. In my job, I explore data and interview policy experts and people whose lives helped shape the numbers. Those figures strengthen narrative in ways that anecdotes alone just can't. That's the fun thing about data reporting and why I love my job. Each statistic represents a person with a story, and some days, I'm lucky enough to tell it.
Posted 9/28/15