UM Students Win SEJC championship
University of Mississippi students won 25 awards in two major regional contests this past weekend, and were named the 1st Place Journalism Champions for the on-site competitions.
The Southeast Journalism Conference 32nd annual convention was February 15-17 at Harding University in Searcy, Arkansas. SEJC has more than 40 member universities in seven southeastern states, and sponsors two contests. The Best of the South contest recognizes the best student journalist work published or broadcast in 2017. In this year's contest, there were 412 entries from 30 universities. Each UM entry consisted of several examples of student and staff work, from The Daily Mississippian, NewsWatch Ole Miss, Rebel Radio, internships and published projects.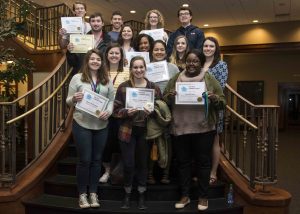 The on-site competitions are held during the conference, and students in attendance compete against one another to produce content on deadline in 15 separate categories. Harding reported that 170 students competed in the on-site competitions this year.

Meek School of Journalism and New Media students won five first-place awards. In the onsite competitions, first places were won by Devna Bose for arts and entertainment writing; Marlee Crawford, for sports photography; and Ethel Mwedziwendira, for current events. In the Best of the South contest, Abbie McIntosh won first place for Best TV Hard News Reporter, and Thomas DeMartini and Austin Hille teamed to win Best Broadcast Advertising Staff Member.
Other awards won by UM students:
Second places in Best of the South: Lana Ferguson, Best News Writer; Lana Ferguson, Best Feature Writer; Madison Heil, Best Journalism Research Paper; Erin Pennington, Best Radio Hard News Reporter.
Second places in the o-site competitions: Hayden Benge for newspaper design; Clifton Carroll for public relations; Marisa Morrissette for media history/law/ethics.
Third places in Best of the South: Jake Thrasher, Best News-Editorial Artist/Illusterator; DeAndria Turner, Best Radio Journalist; NewsWatch Ole Miss, Best College TV Station. NewsWatch is a live, daily newscast, compared to some others in the competition which are weekly recorded and edited shows.
Third places in the on-site competitions: Matthew Hendley for TV anchoring; DeAndria Turner for radio reporting.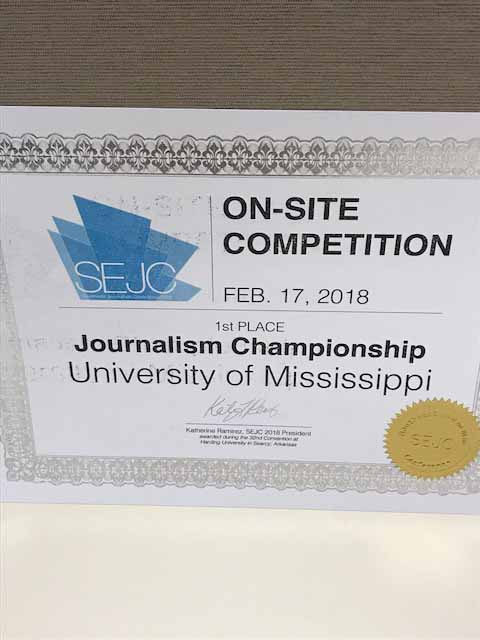 In the Best of the South contest, some of the categories – especially the newspaper categories – attract more than 30 entries each and awards are given out up to 10th place. Other UM students/staffs who placed in Best of the South: The Daily Mississippian, a daily newspaper competing against student newspapers published weekly or semiweekly, won fourth place for Best College Newspaper; Marlee Crawford won fifth place for Best Press Photographer; NewsWatch Ole Miss won fifth place for Best College News Video Program; Devna Bose won sixth place for Best Arts and Entertainment Writer; Ethel Mwedziwendira won seventh place for Best Newspaper Page Layout Designer; Hayden Benge won eighth place for Best Newspaper Page Layout Designer; Grant Gaar won eighth place for Best TV News Feature Reporter; Liam Nieman won eighth place for Best Opinion-Editorial Writer.
Fifteen UM students traveled to Arkansas to participate in the onsite categories, accompanied by Meek School Assistant Dean Patricia Thompson, who oversees all of the Student Media Center.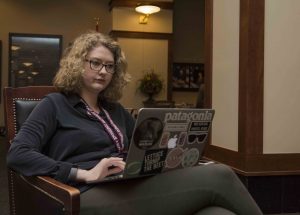 "Year after year, our students excel in both the Best of the South and the on-site competitions," Thompson said. "Some of them are in our newsroom for many hours each day, five days a week. They use what they learn in classes to produce outstanding work, and they do so not just to gain practical experience for internships and jobs, but also because they are passionate about keeping the campus and community informed about events and issues."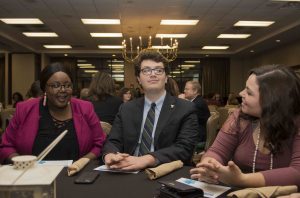 This is the sixth time in the past eight years that UM students have won SEJC's on-site journalism grand championship award. University of Mississippi students were ineligible to compete in the on-site contest last year because the Meek School of Journalism and New Media was the host for the 2017 conference in Oxford.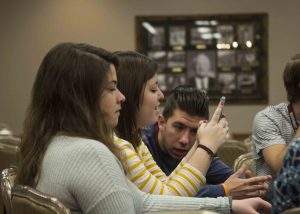 SEJC's Friday night awards banquet speaker was Sonia Nazario, who won a Pulitzer Prize for feature writing and other national awards for "Enrique's Journey" when she was a Los Angeles Times staff writer and is now an author, activist and frequent New York Times contributor. The conference did not have an overall theme, but it included workshops and panels focused on digital content, engaging audiences, broadcast storytelling, yearbook journalism, how to cover campus hazing issues, photojournalism, design, and a look back at the Little Rock Nine and the role journalists play in documenting stories about marginalized people.
Former Daily Mississippian Editor Clara Turnage Wins Chronicle's Miller Award for Young Journalists
Clara Turnage, who graduated from the University of Mississippi in May, has won The Chronicle's 2017 David W. Miller Award for Young Journalists, which is presented annually to the top intern who worked at The Chronicle during the previous year.
The $3,000 award, now in its 15th year, recognizes Ms. Turnage for articles she wrote during her internship this past summer. She is now a reporter at The Natchez Democrat, in Natchez, Miss., where she covers education and crime.
Members of the committee that chose Ms. Turnage for the award cited her for the diversity of the three articles she had submitted for consideration, showing her talent for breaking-news, enterprise, and investigative journalism. Committee members also noted her writing style, marked by vivid language, a strong sense of structure and tempo, and, in one case, a willingness to simply let documents speak for themselves.
One article, filed from Charlottesville, Va., described the violence that struck the University of Virginia's hometown when white supremacists, gathering for a rally, clashed with counterprotesters over plans to remove the statue of a Confederate general.
Ms. Turnage had traveled to Charlottesville to report for a different article, but she quickly shifted from that story to the one unfolding in the streets. She not only filed a series of lucid dispatches under deadline pressure but also took photographs, including one showing a balding counterprotester, carrying a cane and an umbrella, who is sprawled on the ground as he is beaten by club-wielding young toughs.
The award commemorates David W. Miller, a senior writer who was killed by a drunken driver while returning home from a reporting trip.
She was also recognized for a lengthy article exploring why the provost of Texas A&M University at College Station had been fired, in July. The answer was not clear. Among the possible reasons were an audit report that found a possible conflict of interest involving the provost's spouse, a difference of opinion between the provost and the chancellor, and mysterious "enemies" at the university.
Ms. Turnage pursued the story tenaciously and provided The Chronicle's reader with hints even as a definitive answer eluded her. The committee said she must have walked a legal tightrope in trying to find out what had happened, and had structured the story so as to sustain readers' interest until the end.
Finally, she was honored for an article about the unusually difficult mental-health challenges facing international students on American campuses. Many such students, taking pressure-packed course schedules and coming from cultures that still stigmatize mental illness or even regard it as fiction, are reluctant to seek help.
She handled this sensitive topic, in part, by winning the confidence of a Chinese student who was recovering from depression and anxiety and who was willing to provide a window into her struggles. The article also described how colleges are trying to help such students. In an interview, Ms. Turnage called this story "the highlight" of her internship.
While a student, Ms. Turnage worked at The Daily Mississippian, the student newspaper, rising to editor in chief. She majored in journalism, with a minor in computer science.
She says she likes working now at The Natchez Democrat, where she writes two to four articles a day, because of "the impact of a community newspaper on its city." Community newspapers' personal contact with local people results in better journalism than can usually be gleaned from telephone interviews, she says.
The Miller Award commemorates David W. Miller, a senior writer at The Chronicle who was killed in 2002 by a drunken driver while returning home from a reporting trip. Mr. Miller, who was 35, left a wife and two young children.
In presenting the award, the Chronicle committee seeks to identify promising young journalists who exemplify the traits and values that Mr. Miller brought to his journalism: a passion for people and ideas, a zeal for good writing, and a commitment to balance and fairness.
– From The Chronicle of Higher Education
---
Ole Miss students win 18 awards, first for Public Service Journalism at Southeast Journalism Conference
University of Mississippi students earned 18 awards at the Southeast Journalism Conference awards ceremony Friday night, including a first-place honor for Public Service Journalism for The Daily Mississippian's "The Red Zone" special edition.
Daily Mississippian Editor-in-Chief Clara Turnage led the award-winning project during fall 2016. It highlighted the issue of sexual assault, which Turnage said she felt was under-reported on campus. She said many of the editors and reporters she worked with wanted to tell the stories of sexual assault that happened on their campus and in their communities.
"It's an incredible honor to receive this award, and I couldn't be prouder of my staff," Turnage said. "They are so talented, and I am so blessed to work with them."
The University of Mississippi Student Media Center hosted this year's conference. Its theme was "Spotlight on Storytelling: Watchdog Journalism in a Mobile World." Meek School Assistant Dean Patricia Thompson was this year's SEJC president.
H. Will Norton, dean of the Meek School of Journalism and New Media, said he was truly proud of the Ole Miss students who participated in the conference.
"Assistant Dean Thompson and her staff and the students of the Student Media Center provided a wonderful weekend for those attending and communicated excellence to everyone who attended," Norton said.
Conference speakers included Meek School faculty and journalists – including alumni – from The New York Times, Clarion-Ledger, ESPN's The Undefeated, the Associated Press, Mississippi Today, Mississippi Public Broadcasting, E.W. Scripps, and other media companies.
The Best of the South contest honored work published or aired between mid- November 2015 and mid-November 2016. There were entries from 29 universities across seven southeastern states.
Turnage won second place in the prestigious College Journalist of the Year category. She was awarded a plaque and $500.
Daily Mississippian Managing Editor Lana Ferguson won first place for magazine writing, and DM Lifestyles Editor Zoe McDonald won first place for feature writing.
Second-place awards included: Hayden Benge, page design; Billy Rainey, radio reporting; Lauren Veline, journalism research paper.
Third-place awards included: Lauren Layton, TV feature reporting; Daniella Oropeza, TV hard news reporting; Clara Turnage, special event reporter; Lana Ferguson, news writing; Marisa Morrissette, graphic design; Jake Thrasher, editorial artist.
Other individual winners included: Julia Grant, fourth place, op-ed writing; Ellen Spies, fourth place, advertising; Brian Scott Rippee, eighth place sports writing.
The Daily Mississippian, the only daily newspaper in the contest, won fifth place as best newspaper, and theDMonline.com won third place for best website. NewsWatch Ole Miss, a daily live newscast, won fifth place as best TV station.
The Southeast Journalism Conference also includes onsite competitions, where students competed in 15 categories to produce content with tight deadlines. Georgia State University took first place in the Grand Championship Team Category. Belmont University and Southeastern Louisiana University tied for second place. As the host university, Ole Miss could not participate in onsite competition.
Middle Tennessee State University tied for fifth place in the Grand Championship Team Category this year. Faculty adviser for the MTSU paper Sidelines Leon Alligood said his students have been to five SEJC conferences together.
"We come every year," Alligood said. "I liked the wide variety of speakers, and the Fake News program was excellent this year. …My expectations were high, and I'm happy to say they were met."
Bryce McNeil, assistant director of student media at Georgia State University, hosted the conference two years ago in Atlanta.
"I was especially overwhelmed by how positive the speakers were in spite of so many clashes in the media," McNeil said.
He said this year he brought 29
students to Oxford, which is the biggest group yet to represent Georgia State at SEJC. He said these conferences have a lot to offer to journalism students.
"First, the camaraderie is invaluable," McNeil said. "And they leave knowing their profession really does matter."
McNeil awarded Thompson a plaque of appreciation for her work as SEJC president. He said simultaneously running all the weekend's events is very difficult, but Thompson did fantastic work during a fantastic conference.
Harding University will host the next SEJC in 2018. Faculty adviser Katie Ramirez said this was her program's first time visiting Oxford.
"I think they're all ready to move here," she said. "It's beautiful."
Thompson said among the highlights for her during the conference were Jerry Mitchell's keynote banquet speech, the support and help from Meek School faculty and other departments on campus, and the recognition of Ole Miss students' work.
"They are full-time students who work as journalists for hours every day and night because they care about our campus and community," Thompson said.
---
Spotlight on 2016-2017 Student Media Leaders
Upon meeting Leah Gibson at a conference in Washington, D.C., former Chancellor Robert Khayat and Meek School Dean Will Norton knew she would be an asset to the University of Mississippi. Gibson was a high school student at the time, and they recruited her.
"After meeting them at the conference and learning about the programs available here, I then visited Ole Miss and fell in love with the station and all the opportunities I'd be able to have," Gibson said.
Gibson, a senior from Starkville, is majoring in broadcast journalism. In her freshman year, she auditioned for Rebel Radio and was hired as a DJ. She auditioned for NewsWatch and landed a role as a correspondent. Last year, she was a news correspondent for Rebel Radio. This year, in addition to serving as student manager for Rebel Radio, she is also a NewsWatch anchor.
Gibson worked at Mississippi Public Broadcasting in Jackson as a radio news reporter this summer. She covered Mississippi current events, race relations, education and politics.
"I'm excited to see where Leah will take Rebel Radio in her year as station manager," said Roy Frostenson, student media assistant director and adviser for the radio station. "She is a terrific leader, very organized and detail-oriented. She has a great amount of energy and enthusiasm and a lot of great ideas for the station. She does a good job of sharing her vision for the radio station and it's easy to get excited about the future listening to her talk about Rebel Radio."
Gibson's plans for this year include more big events, talk shows, and much more.
"I want to do a campus spotlight where I have interviews coming in every week, giving people direct connection to the station," Gibson said. She is creating a training manual for her staff, and she produced a training video for the DJs.
Gibson is passionate about music, saying that the right song can change a person's mood, and she wants to be sure Rebel Radio gives that to its listeners.
"I really want 92.1 Rebel Radio to be a hot topic on campus. I want people to know exactly who we are, what we play. I want people to have a favorite show that they listen to, for people to be excited about everything that we do."
Gibson manages to do her radio and TV work in addition to her many other activities on campus, such as serving in the Columns Society and as an orientation leader. She was Miss Meridian in this year's Miss Mississippi pageant, where she placed in the top 15 and won a talent award and was a finalist in the quality of life competition.
Gibson will pursue a career in broadcast journalism or radio, and thanks the SMC for preparing her for her future.
"The SMC has provided me with numerous opportunities to meet people, to learn, and to better my craft. It gives you experience in the field which I feel is much more valuable than sitting in a classroom listening to a lecture."
NewsWatch Ole Miss Manager: Payton Green
Payton Green had no idea what he was getting himself into when he joined NewsWatch his freshman year.
"I assumed it was a fun after-school activity. I didn't realize that this was kind of a big deal. I first heard about NewsWatch in Journalism 101, and then I heard about it again in Freshman Convocation, so I decided to join. I figured it was just a bunch of kids putting on a news show."
Now a senior, the broadcast journalism major from Pascagoula says he quickly realized that it was much more than that.
"I was so scared on my first day," he said, laughing.
Fast forward a few years. Green recently traveled to New Orleans to accept a first-place national award for multimedia reporting from the Society of Professional Journalists. Green was part of a team of Meek School students who won the award for their coverage of the 10th anniversary of Hurricane Katrina on the Gulf Coast.
"Payton has a great future, and we're so privileged to have him with us this semester," said Nancy Dupont, professor of journalism and NewsWatch adviser. "In many ways, Payton is the ideal student news manager because he is more concerned with developing his staff than he is with promoting himself. He's assembled a great team, and he's already showing strong leadership skills."
Green worked as an anchor for NewsWatch for two years before becoming News Director, and fell in love with producing and "the behind-the-scenes thing." He is serving as NewsWatch manager, in charge of the entire newscast, for fall semester 2016.
Among the improvements Green has already made this year: new titles and job descriptions for his staff, an emphasis on more social media interaction, more local news and campus coverage, and more live shots from the field and the newsroom.
Green's favorite part of the SMC is seeing his student colleagues' hard work pay off in a dream job. But he points out that it is not all hard work and no play at the SMC. Some of the goofiest moments end up giving them more insight into new ways to branch out on their show, he says.
"When people audition at the beginning of the year, we are there until late at night working long hours which really allows us to bond. During a break one night we began blasting an EDM (electric dance music) song that has a really great drop, and began dancing around and decided to Facebook Live film it. The video got 700 views! We had already been planning on starting to do Facebook Live videos, which are great because you are really able to see how well we are doing."
Green interned at WLOX-TV on the Gulf Coast this past summer. When he graduates in December 2016, he plans to get a job as a TV producer in local news. He would love to someday be a producer for Dateline or 60 Minutes. He is grateful to the SMC for giving him the skills to pursue his dreams.
"If I hadn't come here, I don't know what I would be doing. If I hadn't been producing this newscast, I wouldn't have gotten those internships. It's helped me learn what I want to do. It's also given me the opportunity to meet and work with very talented people."
The Ole Miss Yearbook Editor: Cady Herring
As she embarks on her year as Yearbook Editor, Cady Herring is no stranger to the SMC.
Herring began as a freshman photographer for The Daily Mississippian, and later became DM photo editor. Last spring semester, she was co-photo editor of the yearbook.
"I love news journalism and storytelling, and I believe that the yearbook is the perfect platform to creatively and eloquently document this year," Herring said.
Herring, a senior from Memphis, is a double major in print journalism and international studies, with a minor in Spanish. She has participated in several multimedia journalism projects during her years at the Meek School, in the Mississippi Delta and in Ethiopia. She has studied abroad twice in Africa and once in South America.
This summer Herring spent a month in Tanzania in East Africa as the media intern for UM professor Laura Johnson's National Geographic Society grant, Faces of the Mountain.
"We circumnavigated villages around Mt. Kilimanjaro to finish the grant by conducting surveys and project videos," Herring said. "I was in charge of setting up African-style movie theaters, making sure all the equipment worked, and shooting photos and video."
She is currently communicating with the media team in Tanzania to edit final videos and working with National Geographic editors to submit content.
"Working in Tanzania forced me to think innovatively to accomplish tasks that would be easy in the U.S., but almost impossible there," Herring said. "The cultural and linguistic barriers were onerous, but I loved the challenge. I carry duct tape with me everywhere now!"
Student Media Assistant Dean Patricia Thompson noted that Herring has won national and regional awards for her photography and writing, including placing in the prestigious Hearst national journalism competition.
"Cady is one of those students who can do everything well, which makes her a natural for a job as yearbook editor," Thompson said. "She is one of the most creative journalists I have ever met. Her photography in the Ethiopia depth report was stunning. I can't wait to see the yearbook she leads her staff to produce."
Herring wants to use the yearbook to bring students together this year.
"The Student Media Center has provided me with such an invaluable education that I wouldn't be able to receive anywhere else," Herring said. "It's my plan to structure our staff like a team to foster that experience for other ardent students, so that this book will be a celebration of the amazing talent UM has to offer." She and her staff are hard at work creating their theme and cover design, and they are planning events to reveal the theme later this fall.
"I want to make this yearbook extremely literary and artistic to highlight our campus, our students, and really show who we are as a University today, and I have an amazing staff to do it," Herring said. "This year, we're pushing the limits by redesigning the website to use unexpected technologies to more comprehensively present stories. We're searching for contributors from every area of campus to have frequent content that ranges from high fashion to campus politics, so that it will be an information hub to keep up with the campus and Oxford. This yearbook will be for everyone."
Herring graduates in May 2017, and is applying for internships and fellowships. She's doing research this fall for her thesis about the relationship between the media and migrants, and hopes to continue using her storytelling skills in a career as an international documentary journalist.
Overby Center Senior Fellow and Meek School instructor Bill Rose is a writing coach for the yearbook staff. He has worked with Herring on several Meek School in-depth projects.
"Cady Herring is a young woman with a big heart for the less fortunate and a big talent for photos that capture people's souls," Rose said. "Her work in Africa, South America and the Delta demonstrate a strong sense of empathy and understanding for people of other cultures."
Advertising Sales Manager: Ben Napoletan
Making the decision to give the top advertising job this year to Ben Napoletan was easy.
"Ben was one of our top sales account executives last year and so he was a natural choice for sales manager this year," says Roy Frostenson, student media assistant director in charge of advertising. "He earned his spot with his great work last year."
Napoletan is a senior majoring in finance with a minor in marketing. He is from Alpharetta, Georgia.
"Managing and growing account lists is the main duty of the job," Napoletan says. "Since I am the manager this year, I mainly focus on providing my team with leads, organization, and maintaining my current accounts. Contacting my accounts and presenting them with current promotions and convincing them to advertise more is my goal with those accounts."
This summer, Napoletan interned with Nissan Motor Company in its southeast regional headquarters in Atlanta. He worked on analytical projects ranging from after-sales forecasting to dealership incentive programs.
He says his favorite part of his SMC manager job is meeting monthly and annual sales goals. If they aren't met, it just gives him even more motivation to work harder for the next month.
"Sales has a scorecard, so the only thing that matters is how much revenue we bring in. It doesn't matter if it is from one business or 100 businesses, as long as we earn the most money possible, that is the goal," he says.
Napoletan and his staff are creating video advertisements this year for the first time. And he is making his team work more efficiently by using call lists, which help his team avoid calling the same people twice.
"Ben is extremely organized and he's brought that mindset to his job as sales manager and is working to make our sales operation more efficient and productive," Frostenson says. "He's a hard worker who puts in the time necessary to be successful and sets a great example for our sales team."
Napoletan plans to seek a sales job when he graduates in May 2017. Long term, he wants to be VP of sales for a Fortune 500 company.
Daily Mississippian Editor in Chief: Clara Turnage
Clara Turnage knew on the first day of her freshman orientation in 2013 that she wanted to be involved with the Student Media Center. And even then, the persistence that makes her an outstanding reporter was evident.
"I remember hearing about the DM at the first day of orientation, so I went by that day but no students were there. So I went back again and told them that I wanted to write and get involved," Turnage recalls.
The Sunday before the first day of classes, Turnage got a call from the DM editor in chief, giving her an assignment. Two days later, Turnage had a front-page byline. She was hooked.
Turnage is a senior from New Hebron, majoring in print journalism. Her minor is an unusual one for a journalist: computer science.
" I became interested in computer science when Professor Deb Wenger asked if I would like to be in an Engineering Honors class that focused on the history of media systems," Turnage says. "The class doubled as a computer science elective and the professor told me I should consider CS as a minor. I enjoyed what little coding we did in that class, and I valued the marketable skill I would receive with a computer science minor. So I decided to go with it." It's a skill she uses frequently to create timelines, website designs and other graphics.
Turnage says she loves seeing her staff of writers and editors grow as journalists. She started at the DM as a writer and photographer her freshman year. In her sophomore year, she was promoted to lifestyles editor. She was promoted to managing editor at the end of her junior year, and that summer she also served as news editor and designer.
Patricia Thompson, DM adviser and assistant dean for student media, has worked with Turnage every day for several years. Turnage is one of the best young journalists she's ever seen.
"She is a fearless reporter, a gifted writer, a strong leader," Thompson says. "On the outside, she seems sweet, and she IS kind and fair and thoughtful, but make no mistake, when it comes time for toughness, she has the 'fire in the belly' that I always see in the best journalists. I have seen her doggedly pursue stories others would have given up after a few rejections. Clara's work and influence and commitment have been a major reason for The Daily Mississippian's success in recent years."
For the past two years, The Daily Mississippian has been named by the Society of Professional Journalists as one of the top three daily campus newspapers in the nation. In addition, Turnage has won several awards for her writing.
This past summer, Turnage was a copy editor intern for the Arkansas Democrat-Gazette in Little Rock. The newspaper has one of the most sought-after internships in the country, receiving hundreds of applications for just a few spots.
So far this year, Turnage has led a major redesign of The Daily Mississippian, and increased its social media and digital media presence. In mid-August, she led a new training program for her staff.
It's her last year at Ole Miss, and Turnage reflects on her time at the Student Media Center as a blessing.
"I spend a great deal of my time here. It is because of the SMC that I've had every internship and job that I've had. If you put in a little here, I promise you'll get a lot out of it."
At the start of fall semester, Turnage bought an air mattress sofa and often can be found sitting or lying on it, discussing stories with her staff or just hanging out with them as they wait for stories and photos to arrive for editing.
While they have fun in and out of the newsroom, Turnage says that she and her team work hard to tell the University's story in full – the good and the bad. They take seriously their mission to serve as campus watchdogs and to provide a forum for the exchange of ideas and information.
"The University is going through a time that is very stressful," Turnage says. "There's a lot of change happening on campus. I want to cover that to the best of my ability, while being as unbiased as possible. That is something we struggle with constantly. I am looking forward to continuing to cover in-depth stories that make our writers better and our newspaper better. "
Turnage will graduate in May 2017. Like most other students, she is applying for jobs and internships at media companies in many states, but she adds: "There's a lot of opportunity for news gathering in Mississippi. I'm very interested in that, too. I think Mississippi is one of those states that would benefit most from skilled reporters staying where they are."
By Mary Ruth Womble