'A Once-in-a-Lifetime
Experience'
A team of UM Student Media Center reporters and photographers — representing The Daily Mississippian, NewsWatch and the Ole Miss yearbook — capped off their season-long coverage of the Rebel football team's historic 2021 season with on-the-scene reporting about the team's Sugar Bowl appearance Jan. 1, 2022, in New Orleans.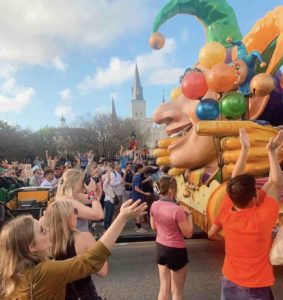 Their stories and images went far beyond the game itself.
DM reporter and Opinion Page editor Londyn Lorenz and photo editor HG Biggs kicked off the weekend on Dec. 31 with dispatches from the Sugar Bowl parade, which featured the University of Mississippi and Baylor University marching bands and cheerleaders, high school bands from throughout Louisiana and New Orleans area dance troupes and performance groups moving alongside the Mississippi River and through the French Quarter.
The party continued at The New Year's Eve Bowl Bash, hosted by the Ole Miss Alumni Association and presented by Rebel Rags, at the Sheraton New Orleans Hotel. At the event, Lorenz interviewed and photographed numerous graduates and former players for a wrap-up of the weekend's social events.
For a new video segment on The Daily Mississippian website, titled DM on the Street, Lorenz interviewed Ole Miss and Baylor fans out and about in New Orleans about their Sugar Bowl celebrations and predictions for the game's outcome. The DM on the Street video was produced by DM managing editor Jacob Myers, who supervised all of The DM's bowl coverage published on thedmonline.com during Sugar Bowl weekend.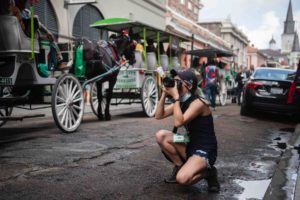 "My time in New Orleans was an incredibly enriching and fulfilling experience that only made me more sure that I want to pursue a career in journalism," Lorenz said.
For the weekend's main event, HG Biggs roamed the Superdome sidelines photographing football action on the field.
"I never dreamed that I would be shooting the Sugar Bowl in the Caesars Superdome my first year as photo editor for The Daily Mississippian," Biggs said. "I felt like I was fulfilling a childhood dream I've had since I first picked up a camera."
NewsWatch Ole Miss Sports Director AJ Norwood was on the sidelines as well for a standup TV report, while The Ole Miss yearbook photo editor Yvonne Perez trained her camera on players on the field and fans in the stands.
Norwood arrived at the Caesars Superdome nearly 4 hours prior to kickoff to ensure plenty of time to film and edit the standup and post to social media. And it wasn't easy: Promotional pre-game videos played with pounding audio almost continuously in the stadium, so Norwood had to time his takes between them in order to be heard on camera. Internet service for editing and exporting was spotty, too, but he prevailed over the challenges.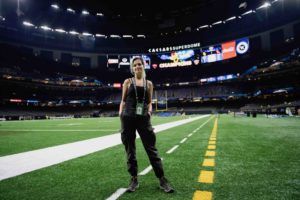 "Covering the Sugar Bowl was a once–in–a–lifetime experience for me," Norwood said. "It was something that I considered as a major goal for myself coming into college. For me to accomplish this during my senior year made all of my hard work since freshman year worthwhile."
Daily Mississippian Sports Editor Catherine Jeffers started her weekend at a Sugar Bowl media party, where she discussed sports reporting with numerous media professionals as well as her counterparts from student media at Baylor University – and threw Mardi Gras beads from a balcony to revelers on the street.
On New Year's Eve, Jeffers participated in several Zoom press conferences with Ole Miss Head Coach Lane Kiffin and Rebel players while working on a full game preview of the next day's matchup.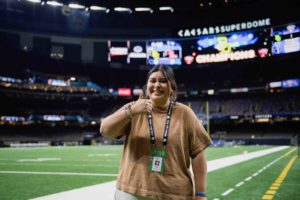 On Jan. 1 at the Superdome, Jeffers spent a few hours on the sidelines observing player warmups before heading to the open-air press box at the highest point in the stadium to watch the game.
"Despite the loss and witnessing (star quarterback) Matt Corral's injury, I had a fantastic time covering the game," Jeffers said.
Back at the media hotel, she pulled an all-nighter to write game stories to be published on thedmoline.com.
"Even though I was awake for 30 hours straight, I wouldn't trade the experience for the world," she said. 
The DM's social media accounts were buzzing throughout the weekend, as well. Social media editor Caroline Beach posted all articles written by DM reporters on Twitter and Facebook accounts, along with two parade photo galleries on Instagram. She also posted a game day highlights photo gallery on Instagram and a game day cartoon on The DM Toons account.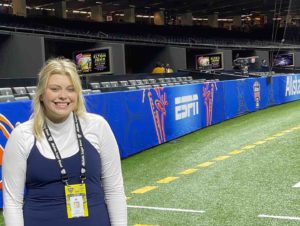 Jeffers summed up all of the participating SMC students' emotions when she said, "Coming into my role as the sports editor at the DM, I had no idea I would be granted so many amazing opportunities — let alone getting to cover a (New Year's Six) Bowl Game in an NFL Stadium. Covering the Sugar Bowl is something I know will stay with me for the rest of my career as one of the coolest and most rewarding experiences."
---
2021-2022 Student Manager Profiles
Maggie Culver – The Ole Miss Yearbook, Editor-in-Chief
Maggie Culver, an Integrated Marketing Communications graduate student from Birmingham, Alabama, is this year's yearbook editor-in-chief after serving as design editor last year during her senior year of undergraduate studies. 
With most students now back on campus this year for in-person classes, Culver thinks it is going to be a great year.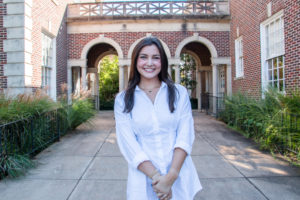 "In May 2022, I hope that I can say I created something great that captures all of the memories of this year," Culver said. "I want people to enjoy reading and continue to look back at it for years to come."
Culver and her staff have been brainstorming ideas for stories, photos and graphics to fill the 368-page book.  
"My favorite section of the yearbook is the culture section because I think it shows how amazing and different the town of Oxford is, which is what attracts so many people to Ole Miss," Culver said. 
For the last few years, the design editors have worked closely with one another while passing along the baton. Culver didn't know much about the Student Media Center at first, but she found a new home on campus.
"I heard about the SMC through Clara Williams, who was design editor at the time," Culver said. "I never would have thought that the very next year I would be in her position, and the next year, be editor-in-chief." 
Culver encourages any student to get involved in the SMC.
"Do it and don't be worried about failing," she said. "The best way to learn something is to immerse yourself in the environment and do it yourself."  
Jaylin Jones – Spring Semester Advertising Sales Manager
Jaylin Jones, a junior real estate major from Lucedale, Mississippi, will serve as advertising sales manager for the spring semester. Jones is excited ​​to have the opportunity to help fellow staffers in their day-to-day work. 
"Being in sales is definitely challenging, and this challenge only grows thanks to the pandemic," Jones said. "I made it a goal of mine to not only be able to sell, but to be able to complete paperwork, process transactions and file contacts. I believe this willingness to learn and improve has allowed me to go from staffer to manager in such a short time."
While searching for internship opportunities, Jones stumbled upon a listing for a sales position in the Student Media Center.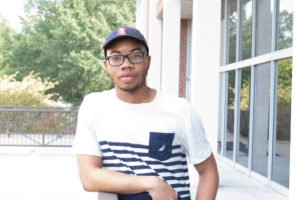 "The SMC offers many positions that are very versatile," Jones said. "Every position in the office is one that will stand out on a resume and prepare you for a postgraduate career."
His future plans include completing his degree and passing the real estate licensing exam to become a licensed realtor. 
"After this I simply plan to continue what I started at SMC," Jones said. "Hopefully I will have a long and successful career in sales."
During his semester in the manager position, Jones has goals of leading the team to new heights and hitting all of their goals for the spring.
Claudia Lappe – Rebel Radio Station Manager
Senior Claudia Lappe started her freshman year at the Student Media Center as a DJ for Rebel Radio. Three years later the Integrated Marketing Communications major from St. Louis, Missouri, is leading the team as station manager. 
"I first found out about the SMC during my campus tour," Lappe said. "The tour guide mentioned the radio station and I came in to ask questions about how to join within the first few weeks of my freshman year."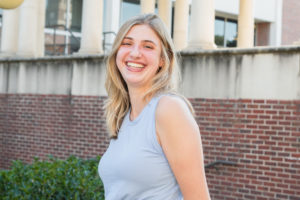 Last year's staffing and operation were limited by the pandemic, but Lappe says she is excited to see growth during this school year.
"The best thing that being here has taught me is that it is possible to have fun while doing your work," Lappe said. 
After graduation in May, Lappe hopes to enter the world of sales and promotion.
"I don't have any solid plans for the future yet. I'm still figuring out what specific career I want to get into beyond the general direction of promotions," Lappe said.  "As of now, my solid plans include moving back home to St. Louis after graduation and working there."
Lappe says that she has made memories in the SMC that will last a lifetime.
"Radio lends itself well to funny faux pas," Lappe said. "Everything is live and as we know, technology doesn't always like to work with us.  I have had a couple instances of something going wrong when I'm live on air. You just learn to roll with the punches." 
Maddie Nolan – Fall Semester NewsWatch Ole Miss Manager
Maddie Nolan, a senior broadcast journalism student from Houston, Texas, also discovered the Student Media Center her freshman year. 
"I was really intrigued because I knew it would help me for my future career," Nolan said. "I started as a reporter and loved the SMC so much that I wanted to work every day on staff."
Nolan has big plans for NewsWatch Ole Miss.

"I'm really excited about the rebrand that we are doing for NewsWatch," Nolan said. "We are creating more updated graphics, including lower thirds, full pages and even a new logo. I'm also really excited about creating more content, adding segment shows like lifestyle bits that will attract viewers."
Nolan is glad she can work in-person with more people at the SMC this year.
"We are going from two days of shows each week to four days of  shows and live at five," Nolan said. "It's been hard to adapt to these changes especially with a brand new staff, but we have managed. We took time off at the beginning of the semester to train and prepare for when we hired new talent. It gave us a lot of time to work out the kinks of having practically a new show since we haven't had any practice and few live shows since the start of the pandemic. It's a challenge but well worth it."
When she isn't working in the SMC, Nolan does mixed martial arts. 
"I started with kickboxing because I've had interest in learning how to defend myself and fight, but also because I knew it was a great workout," Nolan said. "It is a great stress reliever, especially after a long day of school and work."
As for her future, Nolan said: ""I want to be a reporter or an anchor, while I love producing, too, and it's always an option. I feel as if my heart lies with going out and covering the news, talking to people and sharing their stories. If I were to say I only have one dream job, I would be lying."
Nolan graduates in December, and in January, she starts working as a reporter at WAPT-TV in Jackson, Mississippi.
Alexandria Barfield – Spring Semester NewsWatch Ole Miss Manager
Alexandra (Alex) Barfield, an Integrated Marketing Communications junior from Hattiesburg, Mississippi, is this year's spring semester NewsWatch Ole Miss manager. She started off as a reporter her first semester on campus but has made changes to her dream career over the years.
"When I was young, I wanted to be the doctor that deliv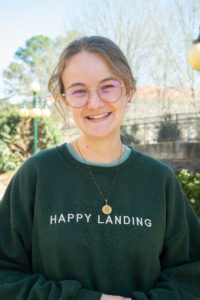 ered babies," said Barfield. "I have come a long way since then in being exposed in high school to journalism and later design and social media. I was involved in our TV station and loved it. Coming to Ole Miss, I learned about NewsWatch, and I wanted to try it out."
This school year, things have returned to normal and Barfield is excited to bring new ideas to the table.
"Maddie and the staff did a lot of work last semester to go live at 5 again, and I'm glad to be bringing reporters back in to introduce their stories live," said Barfield.  "We've also been implementing a new graphics package which helped update our visuals."
Barfield isn't reporting much these days, instead working behind the scenes, but says some of her best memories so far are from the protests that she has covered. Barfield is in the Honors College, and involved in other parts of the campus community. 
"Outside of the SMC, I am very involved in my faith," said Barfield.  "I'm Catholic, and I lead a Bible study. I'm also a member of Sigma Phi Lambda, the Christian sorority on campus where I lead a prayer group. Last summer, I was a missionary at Life Teen Camp Covecrest, which now has become a huge part of my story."
Barfield plans to take the skills she has learned in the SMC and School of Journalism & New Media into ministry after graduation.  
Conner Platt – Fall Semester Advertising Sales Manager
Now in his third year on the advertising staff and his second year as student sales manager, Conner Platt works hard to bring in revenue for the Student Media Center. The junior finance and risk management insurance major from Biloxi is excited to work with his new team to recover from the pandemic's negative impact. 

"I would love to be able to look back and say how we got back on track to the pre-pandemic days and hit all of our sales goals," Platt said. 
Platt, who graduated in December, enjoyed working with advertising adviser Roy Frostenson. 
 "I feel like I could reach out to him about anything and he would be more than happy to help," Platt said. "
After college, Platt hopes to work in investment banking. 
Maddy Quon – The Daily Mississippian, Editor-in-Chief
Maddy Quon, a senior journalism major from Oak Park, California, moved across the country to the University of Mississippi. She first heard about the Student Media Center after Professor Charlie Mitchell took her on a tour of the journalism school during winter break of her senior year.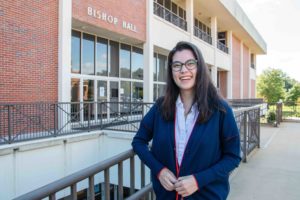 "I ended up working for the DM in my second semester freshman year, when Taylor Vance – the news editor at the time – came to my journalism 102 class and said they were looking for news writers. I figured that was a sign for me to get involved, so I reached out to him to get started. Now look where I am! I think reaching out to Taylor was the best decision I made freshman year." 
Quon, who is in the university's Honors College, plans to maintain the "Digital First" motto for the newspaper, while also brainstorming new things to do with the print paper.
"I know some of my editors have really great ideas for special projects, whether it be for stories, photography or social media, and I'm really excited to see how those turn out," Quon said. "There's some special projects I have in mind as well, and I'm really looking forward to how they'll come together."
Outside of the SMC, Quon loves to read, but says that these days, free time is hard to come by. 
"I think our focus has been primarily on enhancing our social media presence and improving our website," Quon said. "I hope by the end of the year, I can look back and truly say that we really did a good job of improving our presence online."
---
UM students win 24 awards in two journalism contests
The Daily Mississippian and Newswatch Ole Miss won 24 awards, including 12 first-place awards, in the Southeast Journalism Conference Best of the South Competition and the state Mississippi Press Association contest for their content published or broadcast from late 2019 through 2020.
Best of the South is a southeastern U.S. regional contest that received 369 entries from 30 universities. The MPA contest is for students attending Mississippi colleges.
In the SEJC contest, The Daily Mississippian won first place for Best College Website, Best News Writer (Daniel Payne), Best Arts & Entertainment Writer (Will Carpenter) and Best Newspaper Page Layout Design team ( Eliza Noe, Daniel Payne, MacKenzie Linneen, Megan Tape, Kate Kimberlin).
Awards were also won by Daily Mississippian staff members Kelby Zendejas, 3rd place for Best Sports Writer; Kenneth Niemeyer, 3rd place for Best Special Event Reporter/Editor; Katherine Butler, 3rd place for Best News Graphic; Hadley Hitson, 4th place for Best News Writer; Eliza Noe, 6th place for Best Feature Writer; and Katie Dames, 13th place for Best Op-Ed Writer. Some categories had more than 30 individual entries.
NewsWatch Ole Miss, the student newscast, was honored with awards for 3rd place, Best College TV Station; 3rd place, Best TV News Feature (Carter Diggs), and 6th place, Best TV Journalist (Kaylee Crafton).
In the MPA contest, the Daily Mississippian received first-place awards for Best Website; Best Newspaper Layout & Design; Best Newspaper Front Page; Best Series or Investigative (Kenneth Niemeyer); Best General News Photo (Billy Schuerman); Best Sports News Story (Joshua Clayton); Best Feature Story (Will Carpenter); and Best Cartoon (Nakiyah Jordan).
MPA judges praised the DM website for "good, clean, up-to-date content; good format, good job with the pandemic on keeping stories, photos and multimedia flowing." They called DM front pages "bold and provocative." They said articles showed outstanding storytelling; compelling writing; courageous journalism. Visuals were praised as "stunning," and for capturing "signs of the times" and expressing emotion.  
The DM staff won a second-place MPA award for General Excellence. Schuerman won first place and second place in the General News Photo category. Eliza Noe, Katie Dames and John Hydrisko shared a third-place award for editorial writing.
"I'm very proud of all of the awards we were able to bring home this year," said Eliza Noe, DM Editor-in-Chief for 2020-21. "Student journalism, in general, has been through a lot this year, so I'm also extremely fortunate to have a staff that's been able to excel during the pandemic."
Noe also thanked the Student Media professional staff. "I don't know what we would have done without them and their guidance when we needed it."
     Hitson, DM managing editor, said that during her four years on the DM staff, she's seen the publication win dozens of awards every spring.
"I'm glad that even under hard circumstances this year, we were able to uphold our journalistic standard for content and continue to publish important articles that impact the community," Hitson said.
Atish Baidya, associate director/editorial at the SMC, said students for all platforms had to rethink workflows when the pandemic struck last March.
"The Daily Mississippian staff had to switch all their reporting efforts to the website and worked entirely from home," Baidya said. "The Newswatch staff had to reimagine its newscast, pivoting to an online weekly newscast with anchors and reporters recording their segments and stories from home as well."
Brian Barisa had just become NewsWatch Ole Miss manager in January 2020 and the new staff of anchors and correspondents had been working for about a month when the university told students to not return to campus after spring break.
"This past year has been a test of my ability to navigate a changing world and be able to update a live show into a production that could be done from home," Barisa said. "We worked our way from editing and uploading weekly recap shows on personal computers spread all across the country to making twice-a-week newscasts live from our new desk and steadily returning to normal. After a year of hard work, we're ready to push NewsWatch forward into its future and put the pandemic behind us."
     This year's SEJC conference was supposed to be held in mid-February at two universities in the New Orleans area, but it was canceled because of COVID-19 restrictions. The awards ceremony was held virtually. There were  no on-site competitions this year. Over the past decade, UM students dominated the on-site contests and frequently won the Grand Championship.
The MPA conference also was canceled because of the pandemic. Colleges were emailed results from judges.
---
Ole Miss yearbook editor-in-chief selected for prestigious Columbia publishing course
Asia Harden, IMC major and The Ole Miss yearbook Editor-in-Chief, has been selected for the prestigious Columbia Publishing Course, a six-week summer program in New York City. The program prepares students for entry-level jobs in book, magazine and digital publishing through lectures and workshops.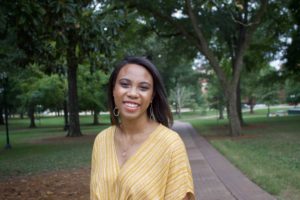 Harden said she applied because she's always been obsessed with books and their ability to take her to another world or experience. In addition to her yearbook leadership and her involvement in several campus organizations, Harden works part-time at Square Books Jr.
"Getting a degree from the School of Journalism and New Media has further solidified my admiration for storytelling," Harden said. "The publishing industry seems like a perfect career path for me. I wanted to learn as much about it as I can, which led me to the Columbia Publishing Course. It is a great opportunity to try to get some insight and determine if it is the right fit for me moving forward."
Now in its 74th year, The Columbia Publishing Course is widely regarded as the gold standard of publishing training courses. Begun at Radcliffe College in 1947, it moved in 2001 to Columbia University and to the city that is the beating heart of the publishing industry. Over the years, many who have attended the course have gone on to great success, including as CEOs, publishers and literary agents. The Columbia Publishing Course also operates a program on book publishing at Exeter College in Oxford, England.
"I am delighted to welcome Asia into our course, because of everything she has accomplished at the University of Mississippi and because she clearly has a publishing career ahead of her," said Shaye Areheart, director of The Columbia Publishing Course. "I look forward to helping guide her into a first job after the course and to watching her achieve her dreams."
Arehart said that Harden is "highly motivated and took the right steps to achieve her dream of working in publishing."
"She is a beautiful and thoughtful writer, has an excellent academic record and has demonstrated through her various endeavors, both on and off campus, a deep curiosity, not only about books, but also about social and political issues."
Harden looks forward to meeting UM grads and professionals in the publishing field. She hopes to find a job in New York City with a children's book publisher in either editorial or publicity for young adult titles.
Harden is from Greenville, Mississippi, and was recently named a Taylor Medalist, the university's highest academic honor. She said IMC and journalism classes helped improve her writing and critical thinking skills, which will be invaluable in moving forward with her career.
---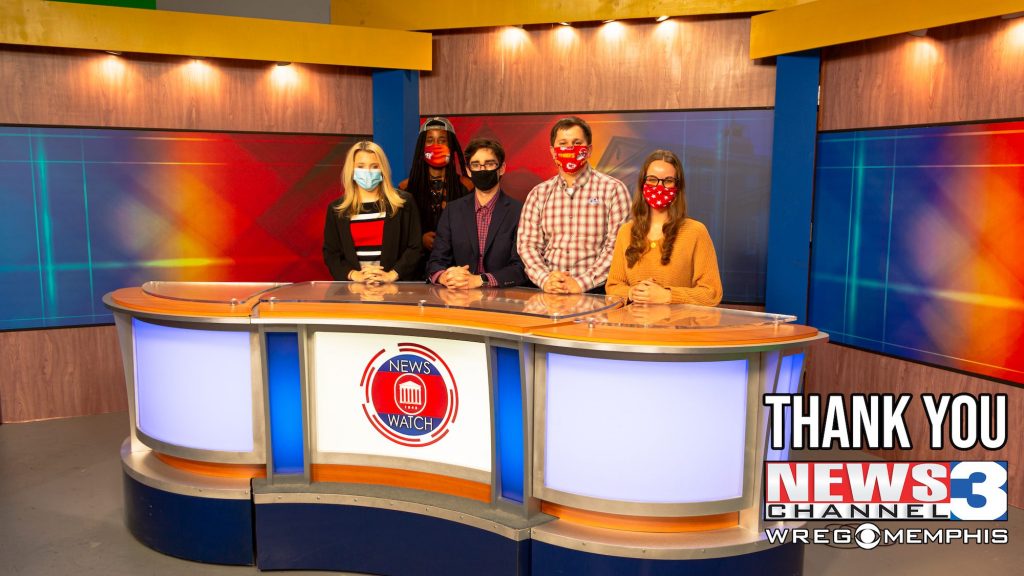 02/04/21 Thanks to WREG-TV in Memphis, NewsWatch Ole Miss has a new set for its newscast.
Wes Pollard, creative services director at WREG-TV News Channel 3, worked in December and January with Steven Miller, Student Media Center broadcast engineer, to complete the project. Pieces of the WREG desk were taken apart, delivered to campus, and then reassembled in the NewsWatch Ole Miss studio. WREG installed a new set at its Memphis studio last year and generously offered furniture from its previous set to the UM School of Journalism and New Media and the SMC.
WREG General Manager Ron Walter was happy to see the desk go to a good home.  "We are proud to support the aspiring young journalists and broadcasters in our area, knowing we may one day work alongside them," Walter said.  "The desk served our anchor teams very well, and we hope it does the same for University of Mississippi journalism students."
     Pictured in the photo at the new anchor desk are NewsWatch student staff members Madeleine Nolan, graphics producer; Artez Gibson, video producer; Brian Barisa, newscast manager; Justin Claas, sports director; and Alexandra Barfield, social media producer.
In spring semester 2021, the newscast is aired on Wednesdays and Fridays. You can learn more about NewsWatch at http://www.newswatcholemiss.com
---
01/29/2021 Journalism Grad Daniel Payne selected for national POLITICO Fellows program
     Daniel Payne started work this month as a POLITICO Fellow. Payne graduated in May 2020 from the University of Mississippi School of Journalism and New Media. He was in the Honors College, a Taylor Medalist, and Editor-in-Chief of The Daily Mississippian, where he led a staff that won national journalism awards. He participated in Lens Collective and had a summer internship at a Washington news website.  Following graduation, he was Executive Editor of The DeSoto (MS) Times-Tribune.
     The POLITICO Fellows program offers four journalists an opportunity to work on teams throughout the newsroom reporting full time on politics and policy. The 12-month professional fellowship also includes a robust training component and work on enterprise reporting projects on policy areas with disproportionate impact on underrepresented communities. Upon successful completion of the program, each fellow is invited to a full-time reporting role at POLITICO.
     "Daniel is foremost a thoughtful journalist who has demonstrated serious commitment to his craft," said Robin Turner, Director of Editorial Diversity Initiatives at POLITICO.  "In addition to his solid journalism chops, he demonstrated strong leadership in pushing The DeSoto Times-Tribune toward a digital-first approach as the weekly newspaper's executive editor. In addition to his compassionate approach to serving his community, Daniel impressed our selections committee with his aggressive accountability reporting on the pandemic, his role in redesigning the newspaper, his work on newsletters, and in his savvy, but responsible social media skills."
     Turner said that Payne, as a graduate of the University of Mississippi who hails from Tennessee, also offers a geographic perspective and background that often go missing in D.C.-area newsrooms. "In short, Daniel is a talented, creative and innovative contributor with fresh insight that any newsroom would welcome."
     Turner, who designed the professional fellowship with the support of POLITICO's Editor in Chief Matt Kaminski, said that fellows are "full colleagues from Day One."
     "Daniel will be embedded as a reporter on two editorial teams and will learn how POLITICO launches new products. We are pleased that all of our fellows – those who have served previously, and those now serving as professional fellows – know they are respected and valued team members. They also help advance POLITICO's editorial mission for delivering strong, independent and credible journalism on politics and policy – and with diverse voices and perspectives."
     Grad students Lucy Burnam and MacKenzie Ross caught up with Payne as he started his new job this week and asked him a few questions: 
Q. Daniel, why did you apply for the fellowship?
A. I have always enjoyed POLITICO and the work that comes from its newsroom, especially all the work they do innovating digital journalism. When I saw that they would be bringing two fellows on board in January, I knew I had to apply.
Q. How do you feel about being a reporter in the nation's capital in 2021?
A. I'm very excited about it. I think, especially over the last year or so, people have focused more on the importance of understanding how policies and politicians affect day-to-day life in the U.S. That makes the job of reporting important stories all the more exciting.
Q. How did your journalism and Honors classes, and your work at The Daily Mississippian, prepare you for this fellowship?
A. My experience at UM has been foundational in preparing me for this fellowship. I feel that, though I still have a lot to learn through professional experience, I'm ready to get to work in the world of journalism. The experience I got at The Daily Mississippian has proved to be monumental in my understanding and practice of reporting and editing. I can't imagine being able to get this fellowship without the real-world education I got at the Student Media Center.
Q. What do you hope to learn from this fellowship?
A. I hope to sharpen my reporting and writing skills, and I also hope to learn about the diversity of opportunities available to someone who wants to report on politics. POLITICO has journalists working in many unique niches of politics and policy reporting, and I think working with different people who have different interests will give me a wealth of perspective on journalism today and my future in the field.
Here is the press release from POLITICO about the new Fellows:
POLITICO Announces Inaugural Class of
The POLITICO Fellows
ARLINGTON, Va. — POLITICO today announced its inaugural class of The POLITICO Fellows, a competitive professional fellowship program that offers four enterprising journalists a front-row seat covering the biggest storylines dominating Washington.
The POLITICO Fellows program, which just began this week, seeks to empower journalists seeking to advance their careers in political and policy journalism. POLITICO is pleased to share that Jonathan Custodio, Anna Kambhampaty, Marissa Martinez and Jonathan "Daniel" Payne emerged from an outstanding and competitive applicant pool impressing the selections committee with their strong journalism skills, entrepreneurial spirit and unique contributions to newsroom diversity.
"The POLITICO Fellows builds on our strong commitment to develop newsroom talent as we deliver authoritative, independent politics and policy coverage with diverse voices and perspectives," said Robin Turner, director of editorial diversity initiatives for POLITICO. "Our incoming cohort includes four very talented journalists, each with the demonstrated ability to lead teams, innovate and break news even beyond U.S. borders. We are proud of all of our fellows – past and present – and are pleased to partner with the National Association of Black Journalists (NABJ) in identifying and preparing these emerging newsroom leaders."
The 12-month program will train professionals and provides a unique opportunity to cover the White House, Congress and policy areas such as health care, trade, technology and finance. Reporting opportunities will include in-depth exploration of how key policy issues disproportionately impact underrepresented communities.
"NABJ is proud to partner with POLITICO in creating this critical pipeline of diverse journalists who will become the next generation of political reporters. Now more than ever, it is important that people who represent Black and Brown communities are leaders in reporting on the government and policy issues that impact communities of color every day. We look forward to the dynamic work that will come from the 2021 cohort and extend our support to each of them," said Dorothy Tucker, president of NABJ.
Participants receive total compensation of $60,000, plus benefits, and are invited for a full-time reporting role at POLITICO upon successful completion of the program. This professional fellowship program also features monthly workshops, mentoring and other training as well as editorial rotations for career exploration. Anna and Daniel begin their fellowships in the POLITICO newsroom this week. Jonathan and Marissa will begin their 12-month terms in June.
The 2021 POLITICO Fellows
Jonathan Custodio brought his Bronx-honed reporting skills to POLITICO in October as an intern in the New York office, where he contributes regularly to New York Playbook and the New York Real Estate newsletter and covers city campaigns. A member of NABJ, Jonathan's work has been featured in ProPublica's Electionland and the immigration news outlet Documented NY. A graduate of LaGuardia Community College and Lehman College, Jonathan also served as a reporting intern at The Chronicle of Higher Education and Bronx community newspaper Norwood News. The Pulitzer Center awarded Jonathan a grant in 2019 to do groundbreaking bilingual reporting on Afro Mexicans' struggle for political, social and cultural recognition, which helped (along with decades of activists' efforts) lead to unanimous vote by the Mexican Senate to ensure constitutional recognition for the disenfranchised community. Jonathan is a member of NABJ.
Anna Kambhampaty has spent the past year and a half as a reporter/researcher at Time Magazine, and delivered a major scoop– Anna broke the Justin Trudeau brownface story for Time in the midst of the 2019 Canadian election. A native of upstate New York, Anna brings a mix of skills to the newsroom: She studied information science at Cornell University while writing a column for the Cornell Daily Sun, and was an interactive web development intern at CNBC and a UX engineering intern at The New York Times before landing at Time. Since mid-2019, Anna has researched and reported on art, agriculture, politics, and history for Time, but developed a specialty at the intersection of politics, race and identity. Anna is a member of AAJA.
A native of Chicago, Marissa Martinez has already made a name for herself as a newsroom leader and editor-in-chief of the Daily Northwestern, during a tumultuous year for higher education. Marissa managed a staff of more than 80 journalists and reported on issues of race, health and education for the city, campus and investigative desks at The Daily, which serves as the only newspaper for the city of Evanston, Ill. Marissa, who speaks Spanish and has studied Portuguese and Arabic, created the newspaper's first diversity and inclusion editor and has been interviewed by the Columbia Journalism Review for her work in newsroom diversity. Marissa currently covers COVID-19 as a reporting fellow for the Texas Tribune. She is a past participant of the POLITICO Journalism Institute and is a member of NABJ, AAJA and NAHJ.
Daniel Payne has worked to push The DeSoto Times-Tribune toward a digital-first approach as the Mississippi newspaper's executive editor for the past year. He emphasized aggressive accountability reporting on the pandemic and redesigned the newspaper, newsletters and social media accounts. A graduate of the University of Mississippi, Oxford, Daniel was editor-in-chief of The Daily Mississippian, where he also helped overhaul the newspaper's website and workflow. Daniel has interned for the Global Post in Washington, DC, and worked as a reporter and panelist for the Lens Collective researching, filming and editing short films on civil rights activists.
###
---
11/6/20 The Daily Mississippian wins Newspaper Pacemaker Award, one of college media's highest honors
The 2019-20 Daily Mississippian has been awarded one of college media's highest honors: a Newspaper Pacemaker Award.
Each year, the Associated Collegiate Press presents Pacemaker awards to the best in collegiate journalism. Entries are judged by teams of professionals based upon coverage and content, quality of writing and reporting, leadership, design, photography and graphics.
Daniel Payne was editor-in-chief in 2019-20, and Eliza Noe was managing editor.
The awards ceremony was held during the annual Associated Collegiate Press/College Media Association annual conference (virtual this year).
The 2019-20 Daily Mississippian also recently won an Honorable Mention for Best Daily Newspaper in the CMA Pinnacle Awards contest. The 2018-2019 DM also won an Honorable Mention in this contest.
The University of California-Los Angeles Daily Bruin won first, The Michigan Daily at University of Michigan was second, The Daily Orange at Syracuse University was third, and The DM tied with California State University-Fullerton for Honorable Mention.
"These are both national awards, meaning student newspapers from all across the country enter in the contests, and we compete against extremely talented student journalists who work for great publications," Payne said. "In these instances, we ranked among the top 20 and top five newspapers to compete, respectively."
Payne said he believes what made The DM stand apart are the combined passion, creativity and dedication of the staff.
"It's a joy to work with people who are driven to serve their community and are talented enough to do it in such a powerful way," he said. "The staff was one of the most talented, inspiring groups of people with which I've had the pleasure of working.
"At the end of the day, that is what these student journalists work so hard to do: serve their campus and community through quality reporting. It's really wonderful to see that passion and talent recognized on the national level."
Payne said it's also impossible to understate the importance of the editorial advisors at the Student Media Center.
"Our advisors taught us, believed in us and led by example for us — all while giving us the independence to allow us to own the newspaper we produced," he said.
Payne said if you want to lead, serve, create, think and learn, the Student Media Center is the place for you.
"I worked for student media from my first semester at UM, and it has been the highlight of my education at the university," he said. "I was smarter, more inspired, more engaged and more successful because of my time at the Student Media Center — especially because of the effort of the faculty at the SMC."
Eliza Noe served as managing editor for the 2019-2020 Daily Mississippian staff. She is now the editor-in-chief.
"Hundreds of papers all over the country submit for (these awards), and that involves choosing your best five issues," Noe said. "They didn't split it up into categories, so we were in the running with weekly, daily and bi-weekly publications. It's amazing to see that our hard work was able to compete with other really great student work."
Noe said the 2019-2020 DM staff was a "dream team."
"Everyone on staff was on the same page about what kind of coverage we wanted to have, and that went across all sections of the paper," she said. "We also became very close as friends, and I think that helped a lot with team-building and cooperation. It was definitely rewarding to see how much everyone had grown by the end of last semester."
Noe also commended the advisors.
"I think having both journalistic and editorial freedom, and also constructive feedback, makes the Student Media Center one of the best places to learn," she said.
Noe began working at the DM her freshmen year.
"There's no way I would be as comfortable in my own abilities if I didn't have the newsroom experience I've had," she said. "Getting to learn all of the levels of how a publication works has shown what I'm passionate about and how to get there.
"I think working at the Student Media Center allows you to actually apply the skills you learn in a classroom in a way you can use to better yourself as a journalist, designer, photographer, etc. We welcome anyone who's interested in putting in the work."
If you are interested in getting involved with The Daily Mississippian, you may email Noe at dmeditor@gmail.com or the newsdesk thedmnews@gmail.com.
---
2020-21 Student Media Managers: Leading Through Unprecedented Times
(left to right): Brian Barisa, Jesus Escobedo, Asia Harden, Eliza Noe, Conner Platt
Our student leaders were selected before anyone knew how much change would take place this academic year. Meeting and producing content remotely. Distribution disruptions. Making decisions about what to do when your staffs are exposed to COVID-19. Figuring out how to tell stories without in-person interviews. Trying to keep advertisers interested. And so much more. They are rising to meet the challenges.
BRIAN BARISA – NewsWatch Ole Miss Manager
After four years of broadcast classes and production in high school, Brian Barisa was immediately intrigued when he toured the University of Mississippi and realized he could become involved with the Student Media Center as early as his freshman year.
Barisa – from Frisco, Texas – is a senior broadcast journalism student spending 2020 as NewsWatch Ole Miss station manager. And what a year it's been.
Barisa started his manager stint in January. Because of the COVID-19 pandemic, he and his student staff had to quickly adapt and change some of the original plans for this year.
Normally, NewsWatch Ole Miss would be a half-hour live broadcast on cable Channel 99 five evenings a week.
"We have switched to a once-a-week format and mostly online-only, so it allows for a slower-paced take on the high-speed world of news," Barisa said. "The new weekly format allows us to be a hub for weekly content and gives us new ways to experiment with new ideas for the show when things are back up and running normally."
From staff member to manager, Barisa said he's learned numerous lessons during his time at the SMC, but most importantly, he's learned how to share the workload with his staff.
"I have had to learn how to lead, be a leader, and delegate work down," Barisa said. "Being so used to having to do everything on my own made me more self-reliant, and I needed to learn how to lead and give people jobs to do."
When not at the SMC, Barisa is working as the Content Coordinator for Ole Miss Esports, as well as playing Rainbow Six: Siege for the varsity team.
"Esports is a new market that has been steadily emerging across the country, especially since even in a world where COVID-19 has kept people indoors, Esports tournaments are still able to go on with strong viewership," Barisa said.
After he graduates in May 2021, Barisa wants to be able to look back to see NewsWatch return as a daily show that remains successful and maintains viewership. For this year, though, Barisa said anyone interested in joining the SMC family should be ready for new challenges each day.
"Every day is a new experience, some are slow, some are crazy fast," Barisa said. "Be ready to work and to work fast. It's a big news year and it's important to stay on top of everything going on."
Barisa's dream is to be a news producer in Dallas or to continue working in Esports after he graduates in May 2021.
JESUS ESCOBEDO – Rebel Radio Station Manager
Senior Jesus Escobedo has been on the Rebel Radio staff since 2018. The senior digital marketing major from Zacatecas, Mexico, isn't letting COVID-19 ruin his year.
"The pandemic has certainly affected my plans for this semester," Escobedo said. "I have had to go back to the drawing board and readjust to the new safety guidelines. With the time I have as station manager, I want to leave Rebel Radio in a place that everybody wants to join."
Some of his goals for the year include producing new content for the weekends and implementing a new music hour block.
Escobedo, a student in the School of Business, found the Student Media Center after a friend encouraged him to apply for a marketing internship with the station. Now, he wants to encourage other students to take a look at what the SMC has to offer.
"I would say 100% do it," Escobedo said. "The SMC is a great place to work and get experience for your future careers. A lot of students who have worked at the SMC have gone on to do great things in life."
Escobedo started his duties as manager this summer, and Roy Frostenson, radio station adviser, said Escobedo has done a great job.
"Jesus is a true Rebel Radio veteran having previously been a DJ and then promotions/marketing director so I was thrilled when he got his chance to be station manager and he has not disappointed," Frostenson said.  "He's brought great diversity to our programming and his dedication and enthusiasm for the radio station is easy to see."
Escobedo also serves as a social media ambassador for the university. After graduation in December, he plans to move to Texas or Chicago to work in the marketing field or with a music record label.
Over the last couple of years in the SMC, Escobedo says he has learned to be more of a leader and has many fond memories of working at Rebel Radio.
"My favorite thing about the SMC is that everybody is so welcoming," Escobedo said. "My favorite memories would have to be getting to go on air in the booth and playing music for Hispanic Heritage Month and Black History Month."
ASIA HARDEN – The Ole Miss Yearbook Editor-in-Chief

This year's editor-in-chief for The Ole Miss yearbook is making history as only the second African American editor-in-chief since its first publication in 1897.
Asia Harden, a senior from Greenville, Mississippi, majoring in integrated marketing communications, is excited to lead the staff to create this year's annual edition.
"I randomly found the Student Media Center website the summer before my freshman year, which led me to find the yearbook," Harden said. "I tried out writing for The Daily Mississippian during freshman year, but yearbook is where my heart was so I decided to stick with it."
Harden has not only the yearbook on her slate this year but also serves the university campus as an orientation coordinator, a member of the Columns Society, and vice president of her sorority.
She has worked hard to hire a staff of editors, photographers, designers and writers while finding new ways to complete tasks, documenting this unusual school year.
"I was definitely expecting to be physically present in the SMC, working alongside my staff of editors, a lot more than I am, but luckily in this digital age, we've been able to stay on the same page as we work toward the finished book," Harden said.
Atish Baidya, editorial director at the SMC, works with Harden.
"Asia's dedication and enthusiasm toward this year's The Ole Miss and her ability to handle all the uncertainty of the year so far speaks to her leadership and maturity," Baidya said.
Many meetings for the yearbook staff have to take place through Zoom or over the phone, but that isn't dampening Harden's spirit or her plans to create a memorable book and experience for her staff. After graduation in May 2021, Harden wants to pursue graduate school, focusing on publishing.
"Book publishing is really my dream industry," Harden said. "I've been obsessed with all things books, reading and writing since I was a kid, so I'd love to work in editorial or publicity for that."
Distribution for the 2020 yearbooks was abruptly postponed spring semester. They arrived on campus in July, and Harden, a writer for the yearbook last year, helped the SMC staff this semester as they arranged for students to pick up their annuals or have them mailed. She hopes the 2021 The Ole Miss will have a normal distribution at the Student Union or Pavilion at the end of spring semester.
"My yearbook memories always revolve around distribution," Harden said. "This year was a little different than usual but the feeling of holding a finished copy of the yearbook in your hand for the first time, and then sharing that joy with others, is second to none."
ELIZA NOE – The Daily Mississippian Editor-in-Chief
Eliza Noe was impressed when a student editor from The Daily Mississippian spoke to her Honors 101 class.
"I was a little nervous to put myself out there, so my friend and I joined the staff together," Noe said.
A native of Amory, Mississippi, Noe is a senior Honors College student majoring in journalism and minoring in art history. Noe started at the DM as an Arts and Culture writer her freshman year before moving up the ladder to become Managing Editor last year and this year's Editor-in-Chief.
"I think it's so beneficial to have served in all of these roles, so now I feel like I know each level's perspectives and expectations," Noe said. "It's been a blast, and honestly, it's flown by."
While the late nights at the SMC with the other editors will be missed because of pandemic restrictions, Noe said the decision to produce only one print edition each week this semester has allowed the staff to expand its "Digital First" mentality by exploring and focusing on the growth of the online and social media community.
"Even though the pandemic was not what we were expecting, it's given us an opportunity to meet where most of our audience is: online," Noe said. "We are focusing on in-depth stories, an impactful front page and the growth of our online presence."
SMC editorial director Atish Baidya noted: "Now more than ever, the work by Eliza and her staff at The Daily Mississippian is crucial to keeping the campus community informed. Eliza's calm and strong leadership has been vital during these unprecedented times."
Outside of working on The Daily Mississippian, Noe enjoys being around friends and family, even though that's been more difficult because of the pandemic. She's also involved with her sorority and the LuckyDay Scholarship program.
One of Noe's favorite things about working at the SMC is the strong bond she's made with the people she's worked with, including the staff, faculty and student colleagues. She hopes to encourage younger staff members to grow as journalists, and that the work they do leads to growth at the university.
"Growth is the major goal I'm heading toward," Noe said.
For those who might at first be nervous to join the SMC like Noe was, she said that students should push themselves to do it no matter what.
Noe's advice: "Just do it. Send that email, send that social media DM, whatever. You're always welcome somewhere, no matter your major or interest. It does seem a little intimidating, especially if you were like me with relatively no journalism experience, but the editors at the SMC love molding and shaping new storytellers to take over after we're gone."
Noe's future plans are to find a job in reporting or attend graduate school. Her dream job would be to work at a publication like Rolling Stone.
CONNER PLATT – Advertising Sales Manager
The sales team of the Student Media Center works hard, building advertising revenue for the SMC platforms. This year, sophomore Conner Platt is leading the team.
Platt is a double major in risk management & insurance and finance from Biloxi, Mississippi. He found his way to the SMC following in the footsteps of his older brother, who worked on the student sales staff eight years ago and is now a marine insurance broker in New Orleans.
Platt started the year by working with his adviser to teach his team marketing and sales techniques.
"I really learned the ins and outs of advertising in my first year and was lucky enough to have the opportunity to be manager this year," Platt said.  "I was hoping to be able to come back to school and have a normal sophomore year but unfortunately that hasn't been able to happen. It has been very strange but I have been able to figure out everything online and am trying to make the most of this semester."
Besides being a member of a fraternity, Platt focuses his time on his double major as well as the advertising team.
"Conner has really stepped up for us," said Roy Frostenson, SMC assistant director for advertising. "He's done a great job trying to drive sales and keep the sales team motivated in what's been a tough business climate.  Conner has a lot of enthusiasm and is very organized and task oriented which is exactly what you want in a sales manager – he's driven to be successful."
Platt said that when he looks back on 2020-21, he wants to be able to see that he and his staff hit their sales goals. "Especially with the current circumstances, that is something I would be very proud to say," he said.
Platt's long-term career plans? "I hope to get into insurance immediately out of college and hope to one day open up my own marine insurance firm."
—By Lucy Burnam and MacKenzie Ross, School of Journalism and New Media graduate students and SMC alumni
---
UM Student Journalists Win 4 National Awards
Devna Bose was named the national winner of SPJ's Mark of Excellence award for online multimedia reporting for her project about the impact of Hurricane Maria on Puerto Ricans' mental and emotional health.
SPJ names one winner and two finalists in each category. The School of Journalism and New Media also had two national finalists in the SPJ contest for content published in 2019:
The Daily Mississippian, finalist for Best Affiliated Website
Will Stribling, finalist for Radio News Reporting, for "Emmett Till Memorial Rededicated," broadcast on Rebel Radio WUMS-FM. Stribling is a senior journalism major.
In the national Hearst Journalism contest, SJNM senior journalism major Madison Scarpino placed in the TV news category. Madison placed 12th for her entry of two packages from NewsWatch Ole Miss.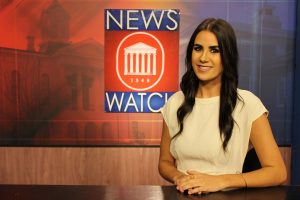 The Hearst and SPJ contests are considered the most prestigious awards in college journalism. All the top universities in the nation compete in SPJ and Hearst contests.
Bose, a Sally McDonnell Barksdale Honors College student who majored in journalism, graduated last year. She worked for the past year as a  Report for America fellow at Chalkbeat in Newark, N.J. In June, she starts a new RFA assignment with the Charlotte Observer in North Carolina, where she will cover underreported communities.
Her award-winning project resulted from a reporting trip to Puerto Rico in January 2019. Several students and faculty traveled to tell stories of recovery after Hurricane Maria.
"I'm so honored to receive this award for a project about such an important topic," said Bose, former managing editor of The Daily Mississippian. "Through exercising a multitude of journalistic skills during the project's duration, like writing, video, photography, and design, I came out of the trip feeling confident as a multimedia reporter. The reporting trip to Puerto Rico was one of the most rewarding experiences of my undergraduate career."
(Five photos attached, left to right: Devna Bose, Madison Scarpino, Will Stribling, Daily Mississippian staff, DM Editor-in-Chief Daniel Payne)
---
UM Journalism students win 13 SPJ awards; Daily Mississippian named best newspaper, best website
The Daily Mississippian staff won first-place honors for best newspaper and best website in the Society of Professional Journalists Region 12 Mark of Excellence competition.
"I'm so proud of the work our staff has done this year, especially with so much important news that we have covered," said Daniel Payne, Daily Mississippian Editor-in-Chief. "It's great to see the hard work that so many editors, reporters, photographers and designers do for our community recognized. We do it because we really care about our campus and town, but it's always great to see that hard work — both in print and online — win awards."
SPJ Region 12 includes universities in four states: Mississippi, Tennessee, Arkansas and Louisiana. The Daily Mississippian was named Best All-Around Non-Daily Student Newspaper for an entry that included three print newspapers published in 2019. The category is for newspapers published in print fewer than 4 days a week.
University of Mississippi students won a total of 13 awards in the Region 12 contest – 7 for first place, 6 for finalists. SPJ awards one winner and two finalists in each category. First-place winners are automatically entered into the national SPJ contest, competing against first-place winners in the other 11 regions. National winners and finalists are usually announced in May.
Other Region 12 first-place wins for UM students: best use of multimedia for a student media multiple-platform entry; Billy Schuerman, first place for sports photography; Daniel Payne, Eliza Noe and Kenneth Niemeyer for general news reporting; Will Stribling for radio news reporting; Devna Bose for online news reporting.
The six finalists: NewsWatch Ole Miss for best all-around newscast; Skye Spiehler and Brianna Florez for television in-depth reporting; Grant Gibbons and Carson McKinney for online sports reporting; Meagan Harkins for online news reporting; Daniel Payne for newspaper general news reporting; Billy Schuerman for breaking news photography.
---
UM student journalists win 21 awards in regional Associated Press college contest
Please join us in congratulating our students who excelled in this year's AP contest for college students in Mississippi and Louisiana. AP picks three finalists in each category. Details about the awards will be announced in April.
The Daily Mississippian, Rebel Radio and NewsWatch Ole Miss are finalists in staff categories for overall best work. The finalists are, in the order announced by AP:
Joshua Clayton, sports enterprise writing, profile of Khadim '"Dream" Sy
Billy Schuerman, finalist in two categories: sports photography (volleyball) and spot news photography (homecoming king election)
The Daily Mississippian staff, finalist for breaking news, weekend of activism; finalist for breaking news, "IHL Picks Its Chancellor; Campus Protests"; finalist for newspaper General Excellence
Brittany Brown, TV news story,  neo-Confederate groups prompt reaction from alumni and students
Skye Spiehler, Lafayette County water system looking to solve big problems
NewsWatch Ole Miss, newscast
Matthew Hendley, TV reporter
Hayden Wiggs, radio feature story, therapy dog
Will Stribling, finalist in three categories: radio news story, Emmett Till memorial marker; radio news story, statue protest; use of sound
DeAndria Turner, finalist in two categories, radio news story (counter protest) and use of sound
Rebel Radio, finalist for newscast and finalist for general excellence
theDMonline.com, website
The Daily Mississippian staff, multimedia package, Oxford/Ole Miss protests and activism
Devna Bose, multi-media journalist, emotional trauma of Hurricane Maria
---
University of Mississippi students named Grand Champions at southeast regional journalism conference
University of Mississippi students won the top prize in the onsite competitions this weekend at the Southeast Journalism Conference in Hattiesburg.
SEJC is a journalism organization with more than 30 member universities and colleges in seven states. SEJC sponsors two major contests each year: The onsite competitions, and the Best of the South awards for best student work published/broadcast during the past year.
University of Mississippi students won 17 total awards in the Best of the South contest, awarded during a banquet Friday night. The Best of the South awards included four first-place awards, four second-place awards, and four third-place awards. In some Best of the South writing categories, there are more than 40 entries, and judges can award up to 10th place in those competitive categories.
Here are details about what our students won.
Online competition: 15 categories. Students cover an assignment on deadline during the conference, competing against students at the conference from other universities.
University of Mississippi: 1st place Grand Champions for the Onsite Competition, based on total points for the overall contest. UM students won a total of 7 awards in the onsite contests.
1st places:
Kenneth Niemeyer, News Writing
Madison Scarpino, TV Anchoring
2nd places:
Griffin Neal, Feature Writing
Sarah Biedermann, Karsyn King, Hannah Williamson, Public Relations team
3rd places:
Daniel Payne, Design/Page Layout
Matthew Hendley and Lydazja Turner, TV News Reporting
Will Stribling, Radio News Reporting
Best of the South – entries must have published November 15, 2018, through November 14, 2019. Each entry includes up to 3 examples of the student's work.
University of Mississippi students won a total of 17 awards:
1st places:
Griffin Neal, Best Feature Writer
Will Stribling, Best Radio Journalist
Georgia Huddleston, Best Advertising Staff Member (advertising design)
Devna Bose, Best Multimedia Journalist, for her project on Puerto Rico emotional health after Hurricane Maria (category based on 3 formats used by a student to cover a single story)
2nd places:
Kenneth Niemeyer, Best Special Event Reporter
Skye Spiehler, Best TV Journalist
Hayden Wiggs, Best Radio Feature Reporter
Rebel Radio, Best Radio Station
3rd places:
Daniel Payne, Best News Writer
Camryn Sidley, Best TV News Reporter
Lasherica Thornton, Best Journalism Research Paper
Rebel Radio, Best Audio Newscast
4th place: Gita Viswanathan and Jesus Escobedo, Best Advertising Staff Member (broadcast commercial)
5th place: Billy Schuerman, Best Press Photographer
7th place: Katie Dames, Best Opinion/Editorial Writer
8th place: Josh Clayton, Best Sports Writer
10th place: Daniel Payne, College Journalist of the Year
The University of Southern Mississippi hosted this year's conference from Feb. 13-15. USM reported that 275 students and advisers registered for the conference, and 180 students participated in the 15 onsite competition.
Twelve students and Assistant Dean/Student Media Pat Thompson attended the conference.
---
Meet the 2019-2020 Student Media Managers
By Lucy Burnam and Ingrid Valbuena
GRACYN ASHMORE – NewsWatch Ole Miss Manager:
Oxford native Gracyn Ashmore visited NewsWatch Ole Miss during her senior year of high school, and volunteered to help with a summer project. After that, she was hooked.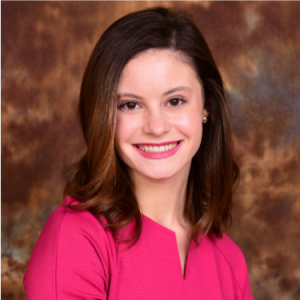 "They make you feel like a person and not a number," Ashmore said. "I could not be happier in the journalism program."
Ashmore, a junior broadcast journalism major with a minor in political science, has been a correspondent and graphics producer for the newscast. She was selected as NewsWatch station manager for fall semester 2019.
"I want my talent and staff to learn from me and I learn from them," Ashmore said. "I want to help each and every person involved feel valued and to succeed."
Ashmore oversees everything that goes into the daily, 30-minute live newscast for Lafayette County, Monday through Friday. She works with more than two dozen producers, directors, anchors and correspondents to make sure the show runs as smoothly as possible.
"It is a team effort and we run like a well-oiled machine. I adore my staff."
During the last academic year, Ashmore worked as a weekend reporter for WTVA 9 News in Tupelo for six months. Her experience further confirmed her dream of working as a reporter after graduation.
"It was the most incredible learning experience in my work besides NewsWatch," Ashmore said.  "I would have never had that opportunity if I had not worked for NewsWatch as a freshman at Ole Miss."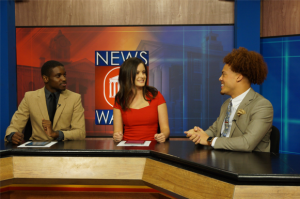 In August, Ashmore and her staff went through training to learn how to use new equipment, after a major upgrade during summer 2019.
Nancy Dupont, journalism professor and NewsWatch adviser, said that Ashmore and Executive Producer Brian Barisa bring intelligence, skill and energy to their jobs.
"When disaster strikes, as it frequently does in preparing a live newscast, Gracyn and Brian remain calm and level-headed," Dupont said.
BRIAN BARISA – NewsWatch Ole Miss Manager:
Brian Barisa is majoring in broadcast journalism and minoring in political science. In the spring semester, he will take over as NewsWatch newscast manager, and Ashmore will become executive producer.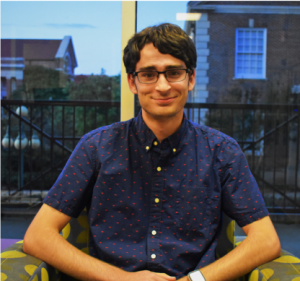 Barisa is from Frisco, Texas, and was impressed that he could come to Ole Miss and get involved in student media as a freshman.
"I was the senior producer after four years of classes in high school broadcast and wanted to keep working in media as quickly as I could," Barisa said.
As executive producer, he is in charge of the scriptwriting and time setting for the daily newscast. This year he is most excited to work with the recently purchased full HD system.
"My favorite part is finding content and building up a show before anyone else has gotten started," Barisa said.
Barisa had an internship with RealNews PR, a public relations agency based in Dallas. He created graphics, videos and content for clients.  "It was my first chance to use programs like Adobe After Effects professionally and dive deeper into how to create better content." 
Outside of the SMC, Barisa can be found participating in the Ole Miss Esports program. "I've been able to get heavily involved with it because it combines my hobby of gaming with my competitive nature and drive to always win, while also being something modern and new that is groundbreaking on the campus," Barisa said.
Barisa's dream is to someday travel the world as a GT car racing driver.
REBECCA BROWN – Advertising Sales Manager:
Becca Brown is in her second year as advertising sales manager. Rarely does a student serve two years in the top position.
Her drea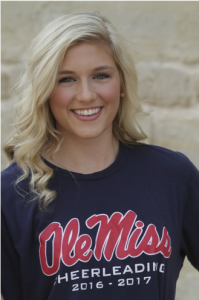 m of pursuing cheerleading led her from Hallettsville, Texas, to Ole Miss. After two years as an Ole Miss cheerleader, Brown wanted to become even more involved on campus. A friend recommended her for the SMC sales position and she quickly showed her leadership potential.
Brown is a senior majoring in marketing in the business school. She supervises a staff of five account executives. Her goal for this year is to bring the best revenue numbers The Daily Mississippian has ever seen, and to grow the revenue from digital and broadcast student operations.
"I love the relationships I have made with clients and the value small business brings to the Oxford community," Brown said. "I am always pushing our team to do the absolute best we can."
Roy Frostenson is SMC assistant director for advertising. "It's not often we're able to get someone to repeat in this position so we're excited to have Rebecca back, with her experience, leading our sales team for another year," Frostenson said. "She's organized, focused on details and task oriented – all qualities you want and look for in a sales manager. Rebecca brings a lot of drive and determination to the job and is a great leader for the sales team."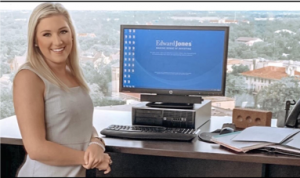 In the summer of 2019, Brown served as a financial adviser intern for Edward Jones Investments, and she hopes to work there again when she graduates in May.
"I had such a wonderful experience and got to utilize some of the skills I learned with the SMC," Brown said. "The internship this summer gave me a peek into what daily life is like for a financial adviser and I could not be more excited."
LAUREN CONLEY – Rebel Radio Station Manager:
A radio show called "Electric Ladiez" was Lauren Conley's first introduction to Rebel Radio in the Student Media Center. When she became a DJ and got to talk about how topics in entertainment reflected culture, she felt a certain tranquility in the booth and knew it was something she wanted to pursue.
"I would feel at peace every time I would walk into the booth because it was like a personal safe space," Conley said.  "Now the whole station is my safe space because every time I walk in, I hear music and that is my agent of calmness."
Conley is from Grenada, Mississippi. She is a senior broadcast journalism major with a specialization in media sales and a minor in theater arts. The summer before she became involved with the SMC, she interned as a producer with WTVA 9 news in Tupelo.
"I was met with a demanding newsroom setting full of strict deadlines and high expectations," Conley said. "It was difficult at first, but after I got the hang of it, I became more confident in myself in this line of work. This pushed me to try out for NewsWatch and Rebel Radio."
During her junior year, she was a DJ for Rebel Radio and also an anchor for the NewsWatch team. A year later, she is the Rebel Radio station manager. Conley said her love of producing, which started during her WTVA internship, led her to apply to lead the station. Producing attracts her because it involves deadlines, scheduling and management.
"I like being able to see my vision turn into a reality," she said.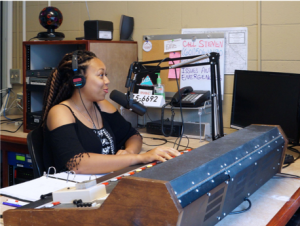 As station manager, Conley is in charge of 50 DJs and a staff that includes a news director, a music director and marketing directors. She schedules live remotes for events, conducts partnerships with companies in Oxford for sponsorship, and is also the person to call if something goes w rong in the studio.
"Something cool about my job is that I get to discover who my DJs are and understand why one person likes this and not that and what their musical choices say about them," Conley said.  "We form a little community within itself here at this station. With my staff, I feel like we have gotten to know each other on a personal level. We all have a great friendship to the point where it doesn't feel like a job, but a bunch of people that come together to make the station better."
Her goals for Rebel Radio are to gain more exposure for the station. She wants to implement more live remotes to have students speak about different topics, and have student organization leaders on air to inform students about campus involvement. She wants to feature DJs' shows on their YouTube channel for listeners to play their favorite shows on the go. One big accomplishment this year: She worked with SMC professional staff member Hannah Vines to redesign the radio station website.
"Lauren brings a lot of enthusiasm to her job as station manager and is constantly looking for ways to motivate her staff and improve the station," said Roy Frostenson, adviser for Rebel Radio.
While pursuing a career in acting, Conley plans to work as a DJ or manager for another radio station after graduation in May. Most recently she was an extra for the NBC drama "Bluff City Law."
DANIEL PAYNE – The Daily Mississippian Editor-In-Chief:
When Daniel Payne asked his SMC colleagues what word best described him, the answers all boiled down to a similar thread: passionate.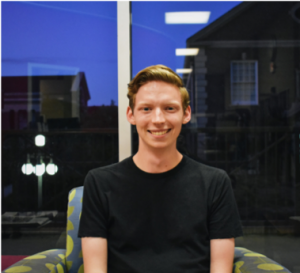 "I don't mean that I'm the kind of person that stands on my desk and barks orders," Payne said. "I'm passionate in that I'll lie awake late after work and think about the next story, next post, next paper."
Originally from Collierville, Tennessee, Payne is a senior Honors College student majoring in print journalism and minoring in political science. He got involved with The Daily Mississippian when friends told him the DM was searching for writers. This year, he is editor-in-chief.
"When I started spending more time in the SMC, I learned so much in such a short amount of time," Payne said. "The advisers, professors, editors and writers I worked with gave me knowledge and instincts that I can't imagine getting anywhere else."
Greg Brock is Daily Mississippian adviser this year. Brock is a former DM managing editor and a recently retired New York Times editor.
"Of all of the young journalists I have worked with through the decades, Daniel is the one whose talent I could not quite quantify when I began teaching him and working with him in student media," Brock said. "It finally hit me one day:  He simply was born with journalism DNA. His talent goes far beyond his reporting, writing, editing and leadership skills, which are vast. He is the rare young journalist with an old soul, drawing on the best of the past to lead this next generation."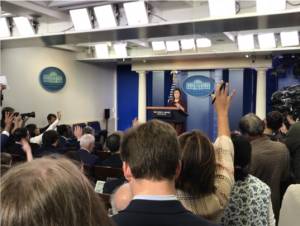 Payne said his position involves a lot of thinking about what a great publication should be and then trying to execute that vision. He spends his day thinking about how to work with many aspects of journalism at once, from reporting to motion graphics, saying it's one of the most challenging things he's ever done creatively but also part of what makes the job fun.
"I try to remind myself and others that it's OK to throw out some silly ideas before you settle on one," Payne said. "By allowing myself to be creative without judgment at first, I can find some solutions that I wouldn't have been able to get without allowing myself to try something new. It isn't until I've tried several options that I know which one is best."
While Payne wants content to drive the pieces they create, he said one of his main goals is making the DM more relevant in the digital world since that's where so many people, especially students, get their information.
"We have totally redesigned our online presence, which means that students can find news that matters to the community on our website and social media," Payne said. "We want students to understand the world that is immediately around them as well as enjoy the stories that come from this special place."
One of his favorite internships was with online publication The Globe Post in Washington, D.C. While he said it was uncomfortable at first to try to learn digital journalism skills and also learn how to produce good pieces on important events that were happening all the time, he was  obsessed with it all. One of his assignments: Cover the first trial of former lobbyist Paul Manafort.  Photo caption: During his internship in D.C., Daniel had the opportunity to attend a White House press briefing.
As DM editor-in-chief, Payne leads a staff that includes dozens of editors, writers, photographers, designers, social media coordinators, cartoonists, videographers and more.
"Working with really talented, passionate people is another great part of the job," Payne said. "I've learned so much from them, and the editorial staff has become a close group of friends so quickly. I'm inspired by the work that they produce individually and proud of the work we do as a whole."
MEGAN SUTTLES – The Ole Miss Yearbook Editor-In-Chief:
Megan Suttles always knew she wanted to attend the University of Mississippi because of her family's love for the school. But she didn't originally plan to become part of student media.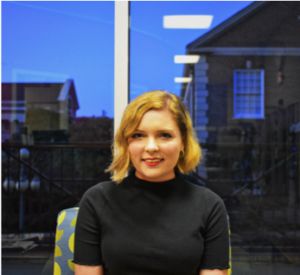 "Last year's editor-in-chief reached out to me through social media and offered me the photo editor position," Suttles said. "Photography has always been my biggest passion and I knew I would be missing out on a great opportunity if I declined, so I took the job and it ended up being a life-changing decision."
Suttles, a native of Meridian, Mississippi, is majoring in Arabic and journalism. This year, as editor-in-chief of The Ole Miss yearbook, she gets to lead a staff working to put together the annual for students and alumni as they reflect on their time at UM.
"That has to be the coolest part of my job," Suttles said. "Being able to use my passion for photography to tell stories, while also getting to write and design a book with a group of other people who feel just as passionate about this school."
While Suttles said she has big shoes to fill, she hopes to create a yearbook that's just as good as previous yearbooks.
"I want students to be aware that their time at Ole Miss is one-of-a-kind and unlike any other year, so they should cherish the fact that there will be a book to document all of this change," Suttles said. "I want more students to get involved with the yearbook, maybe even write or taking pictures for us, so that they can be a part of documenting everything."
Patricia Thompson, assistant dean for student media, said Suttles did such an outstanding job as photo editor of the 2019 yearbook that she was the natural choice to lead the staff this year.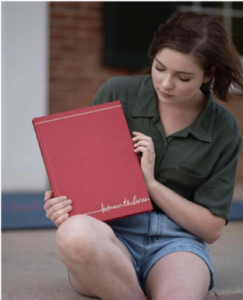 "This semester, we are enjoying watching Megan and her staff create their theme for the 2020 yearbook, design a cover to reflect that theme and assign and edit articles and photos and other content," Thompson said. "Megan's enthusiastic spirit inspires her staff and the rest of the SMC."
Suttles said that if she could go back and give advice to herself on one thing, it would be to be more confident, knowing it's OK to be insecure about where you will end up, but having confidence and doing your best can bring about some amazing things.
"I'm stressed out a lot of the time, but I think people see that I'm stressed out because I'm ambitious and I care about accomplishing my goals," Suttles said. "I think ambitious would be a good word to describe me."
Suttles, a senior, said her long-term goal is to be a journalist based in the Middle East.
---
Q& A with Ole Miss students interning for 60 Minutes, Fortune magazine
Two School of Journalism and New Media students are in New York this semester, taking classes and interning through the Semester in Journalism program operated by a journalism institute at The King's College in NYC.
60 Minutes intern Matthew Hendley is a junior broadcast journalism major from Madison, Mississippi. He has worked as a NewsWatch Ole Miss anchor, play-by-play announcer for Rebel Radio and local government reporter at the Beat Reporter. In his freshman year, Matthew won first place in the Southeast Journalism Conference TV newscast anchoring competition.
Fortune magazine intern Hadley Hitson is a junior journalism and Spanish double-major from Mountain Brook, Alabama. She has worked as a Daily Mississippian writer and assistant news editor, an intern in the U.S. Department of Homeland Security's Office of Public Affairs, and with the White House Internship Program in the Communications and Press Office.
The New York City Semester program partners with 37 universities.
Matthew Hendley
Tell us about your internship. What's a typical day like?
I get in around 10 and take care of my intern duties – distributing papers to correspondents and producers, stocking the kitchen and refilling printers. Then I usually have an assignment once I get settled at my desk. It's all about forming relationships with the producers. They give you simple tasks, and if you do it well then they'll give you more work. Eventually, they trust you with actual reporting – calling courtrooms, getting information, conducting research and aggregation – and you become an essential part of the story production. In my downtime, I work on story pitches and answer phone calls from viewers.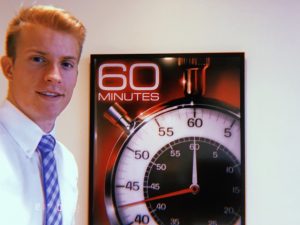 How are you using the skills you learned in your journalism classes and at the Student Media Center?
Aside from learning to be a student of current events and fluent in news lingo, I use several other reporting tactics and journalistic techniques I learned from the SMC and in the classroom at Ole Miss: Whether it's calling sources and knowing how to ask for what you want, thinking through and constructing complete story ideas, or simply interpreting news stories and research related to a story being investigated by 60 Minutes – these are all things I learned from working at NewsWatch and deciding to view daily life through a journalistic lens.
What's the single most exciting or memorable thing that has happened to you so far during your internship?
Probably meeting and chatting with Anderson Cooper. Or getting coffee for Adam Sandler.
What's been your favorite assignment so far?
We spent weeks pulling pictures and posts from alleged Russian operative Maria Butina's Facebook pages. The producers ended up using several of the photos we pulled in the story that went to air. It's great getting to see how our small, yet tedious work contributed greatly to such a big story.
What do you miss most about Ole Miss while you are away?
Aside from football season, the community and atmosphere in Oxford, I miss reporting. For student journalists, we're blessed with the curse of attending a school where there always seems to be something newsworthy happening. I miss being a part of those stories.
What advice would you give other students interested in the Semester in Journalism program?
If you want to give New York a test run, do this program. You'll learn from talented former journalists who'll guide you if you need it. It might seem scary, but it's really not all that crazy. Ole Miss students have really stood out in this program. Our journalism school puts us above the fold. I'd suggest applying for the internship you want in NYC rather than waiting to be placed in one by NYCJ. That's how I landed 60 Minutes.
Anything else you'd like to tell us?
A few days ago, I hopped on a 9-hour bus ride to Buffalo to chase a story for my religion reporting class. And that's why I love it up here. There's a gold mine of stories, and they're all within reach. When it comes to a good story, sometimes you just gotta do it.
Hadley Hitson 
Tell us about your internship. What's a typical day like?
No two days interning at Fortune Magazine have been the same. Whether I'm sitting in on editorial brainstorms, pitching my own articles to editors, doing research for Fortune's famous lists or working on the backend of the website to help publish content, I am getting the opportunity to do real work for a magazine with a readership of nearly 5 million people. So far, I have been published with an individual byline four times online and twice in print.
How are you using the skills you learned in your journalism classes and at the Student Media Center?
Nothing could have better prepared me for this internship than working for The Daily Mississippian. Thinking of creative story angles, writing articles on quick-turnaround deadlines and being able to work well with editors are just a few of the many skills the DM taught me that I use on a daily basis at Fortune.
What's the single most exciting or memorable thing that has happened to you so far during your internship?
I don't think anything can compare to the elation I felt seeing my byline printed in Fortune for the first time. The first week I started, I was able to help research and write for Fortune's Most Powerful Women International list, which appeared in the October issue of the magazine. Going to the newsstand to buy that issue and being able to retweet the article from Fortune's verified Twitter, those were my two favorite moments.
What's been your favorite assignment so far? 
I was initially nervous about the fact that Fortune is a business magazine, but I have discovered so many business-related topics that I want to learn more about. For the November issue, I pitched an article about the current state of election security one year out from the 2020 vote, and somehow, my editor liked the idea. Writing that article and really digging into what officials and experts still think needs to change before next November was definitely my favorite assignment thus far.
What do you miss most about Ole Miss while you are away? 
Hands down, the two parts of Ole Miss that I miss the most are The Daily Mississippian and the Sally McDonnell Barksdale Honors College. I love that I'm getting to cover national topics like election security, but I really do miss reporting on Oxford, especially with all of the news that has happened since I've been gone.
What advice would you give other students interested in the Semester in Journalism program? 
Apply! Even if you don't think New York is the city for you, even if you're worried about missing Oxford and your friends there, you should challenge yourself to learn by experience. The King's College is almost the exact opposite of the University of Mississippi. It has less than a thousand students. It is located in the most populous city in the United States, and it is a Christian liberal arts school. NYCJ is the chance to experience and grow in this contrasting environment for one semester with the safety net of knowing you can return home to Ole Miss the next.
---
Congratulations to The Daily Mississippian 
The Daily Mississippian is a finalist for Daily Newspaper of the Year in the national Pinnacle Award competition, one of the highest honors in college journalism.
The DM is one of four finalists in the four-year university category. The other three are student newspapers at Iowa State, Texas A&M, and the University of Texas-Austin. The category is for newspapers published at least three days per week. It recognizes excellence in coverage and content; design, graphics and illustrations; photography; service to the campus community; and reporting, writing and editing. Each entry consisted of one edition published in fall 2018, one edition published spring 2019, and one other edition from anytime during the 2018-2019 academic year.
Winners will be announced at a College Media Association conference in November.
---
New Look for the SMC
What we did on our summer "vacation" 
The Student Media Center operates year-round at Bishop Hall, and staff and students were even busier than usual this summer. The SMC spent more than $70,000 on equipment and software upgrades. Websites were redesigned. Broadcast engineer Steven Miller and media tech manager Jared Senseman worked hard to install everything for the start of fall semester. Here are a few highlights:
NewsWatch Ole Miss has a new switcher, monitors, cameras and related accessories. The newscast should now be much more vivid and viewers will see more details in true HD quality. A plus is that the new equipment takes up less space and uses less electricity. The student staff is starting training this week to learn how to use the new equipment.
New software was purchased for all lab machines, including Adobe Creative Cloud for more than 25 computers and Microsoft Office 2019 for all lab machines.
The SMC classroom has a new projector with a number of improved features.
The summer Daily Mississippian editorial staff and adviser Greg Brock worked with Jared to redesign theDMonline.com. It will launch this week. The website has a new theme and is easier to use, with better aesthetics and improved security. The DM site was moved to its own private server, which will increase speed and response times, with a cool mobile version. The old website will be renamed thedmarchives.com, and will be available for as long as we want. It includes previous archives; articles as far back as 2009 will continue to be accessible.  
The DM print edition has also undergone a major redesign. The first print paper of the semester, which includes our annual Back to School special section, will be distributed August 26. The DM will have a print edition 3 days a week (Mondays, Wednesdays, Fridays).
Rebel Radio's website is undergoing a major redesign and theme upgrade, led by Hannah Vines and others on the professional staff working with Rebel Radio student staff.
If you didn't check out the yearbook website last year, please do so this year. MacKenzie Ross, editor of the 2019 yearbook, redesigned the site and it includes some awesome drone footage and content that complements the printed yearbook. This year's yearbook staff will continue to modernize the website.
Graduate assistant Ingrid Valbuena is redesigning our recruiting materials.
I've been here for 10 years, and I can't recall a summer with more breaking news stories of local and national interest. TheDMonline.com had 450,000 page views this summer (very unusual for the summer; we're already close to 1.2 million for the year), and the electronic newsletter has more than 1,100 subscribers.
---
UM School of Journalism student is intern at Dateline NBC this summer in NYC
A University of Mississippi School of Journalism and New Media student entering her senior year landed a spot in the National Association of Black Journalists/NBC News Summer Fellows program.
DeAndria Turner was assigned to Dateline NBC's primetime long-form journalism news program. She's working every day at Rockefeller Center in Manhattan. The program is a paid internship, and also includes a housing stipend.
Turner's daily duties include collaborating on the morning rundown multimedia presentations and keeping executive producers updated on breaking news; transcribing interviews; working with producers to fact check and research stories; and shadowing on-site promotional shoots.
Turner is from Gautier, Mississippi, and before her internship began in early June, she had never been to New York.
"I'm a small-town girl navigating my way around this huge city," Turner said. "I'm most enjoying exploring the not-so-touristy parts of New York. I like to go to Brooklyn and Queens and really see the history and the people. There's so much to do here and so little time, but it's a blast.
"The best thing about my internship is that I've never done this before. I want to be in front of the camera, but I'm learning what it feels like to be behind the screen. I'm trying to take everything in to learn how to be a better storyteller visually and in my writing. Everything I'm learning here will help me be a better news reporter, and it'll especially help me with my new job next year."
Turner was Rebel Radio student manager and a correspondent for NewsWatch Ole Miss last year. When she returns from her internship, she will work at the Student Media Center as multimedia director, coordinating content and producing packages for The Daily Mississippian, NewsWatch and Rebel Radio.
---
Assistant Dean, Students Earn 21 Awards at Journalism Conference
Assistant Dean of the School of Journalism and New Media Patricia Thompson was honored as Educator of the Year at the 33rd annual Southeast Journalism Conference last weekend.
"I had no idea I was even nominated for the award, so it was a complete surprise to me," Thompson said. "I'm still pretty emotional about it. Journalism has been my passion since I was elected editor of my school newsletter when I was 11 years old. I've been teaching here and in charge of student media for almost 10 years, and it has truly been a dream job."
Middle Tennessee State University hosted the 2019 conference in Murfreesboro, Tennessee, with over 300 students and advisers in attendance.
Thompson was nominated for the honor by current and former students, and she was chosen by a committee of the three most recent recipients of the award. After graduating from the University of Missouri, Thompson worked for The Washington Post and taught at Northwestern University. She was also a part of the San Jose Mercury News staff that was awarded the 1990 Pulitzer Prize for general news reporting.
"Assistant Dean Thompson has been a leader for many years in journalism education," said Will Norton, the dean of the School of Journalism and New Media. "As the executive director of the Accrediting Council on Education in Journalism and Mass Communications, she is the major player in maintaining the quality of journalism education around the world."
University of Mississippi students also won awards in the two regional contests sponsored by the conference. The Best of the South contest honors the work of student journalists from throughout the previous year, and the on-site competitions gave students the opportunity to compete on deadline during the conference.
In the Best of the South competition, The Daily Mississippian was awarded fifth place for Best College Newspaper. It was the only daily newspaper competing for Best of the South.
"I'm incredibly proud of our staff's work over the last year, and I think this showing among a field of weekly and monthly papers is a testament to some incredible dedication and hard work over here," Slade Rand, editor-in-chief of The Daily Mississippian, said. "It was really cool to get that award, even if it is simply a reminder that other people do notice what we do."
Also in the Best of the South contest, NewsWatch Ole Miss's Madison Scarpino won first place for TV hard news reporting.
Second place Best of the South awards included Devna Bose for feature writing, Elizabeth Blackstock, Katie Campbell and Jessi Dressler for journalism research paper and Rebel Radio for radio news audio program.
Third place awards included Hayden Benge for news graphic design, DeAndria Turner for radio journalism and Rebel Radio for radio station.
Other individual awards included: Mary Clair Kelly, who won fifth place for TV news feature reporting; Slade Rand, who won sixth place for news writing; Liam Nieman, who won seventh place place for arts and entertainment writing; Jaz Brisack, who won seventh place for opinion-editorial writing and Brittany Brown, who won eighth place for College Journalist of the Year.
"I've worked with some super talented young journalists who have graduated and are doing great work as professional journalists, and I know this year's staff will do the same," Thompson said. "Every day, I marvel at how hard they work under deadline pressure to produce such outstanding content to keep the community informed."
In addition to 13 Best of the South awards, the University of Mississippi also won second place for the Grand Championship of on-site competitions with seven individual wins.
"I was absolutely thrilled for our students that won awards at SEJC, especially the on-site awards," NewsWatch Ole Miss Station Manager Abbie McIntosh said. "Those awards showed everyone and ourselves, that we know how to produce good work under pressure and tight deadlines. Like I've said before, everyone puts in hard work and dedication, day in and day out, and to win some awards is a really good feeling."
Matthew Hendley won first place in the on-site competition for TV anchoring, and Hayden Benge, Hailey McKee and Davis Roberts won first place as a team for public relations.
Second place awards went to Devna Bose for feature writing and Abbie McIntosh and Madison Scarpino for TV reporting.
Third place awards went to Liam Nieman for arts and entertainment writing and Slade Rand for news writing.
This story was written by Hadley Hitson and originally published in The Daily Mississippian.
---
Newswatch Students Bring Home SEJC Awards
Congratulations to Matthew Hendley and Madison Scarpino for winning first-place awards in Southeast Journalism Conference competitions.
Hendley, a NewsWatch Ole Miss anchor and correspondent, won first place in the SEJC onsite anchoring competition. Judges said the entries were unusually strong this year, and Hendley, a sophomore, came out on top.
Scarpino, a junior, was named Best TV Hard News Reporter for packages that aired on NewsWatch Ole Miss last year about Hurricane Michael and the Journalism and New Media forum after Ed Meek's Facebook post. Scarpino was social media producer for NewsWatch last semester.
JNM Professor Nancy Dupont is NewsWatch adviser and has worked with both students.
"They're both incredibly talented student journalists," Dupont said. "I'm not surprised that Madison took first place in reporting because she's an excellent storyteller. Matthew is the one of the best at interpreting the news, but I'm so proud of him for taking first place in anchoring, which is a really competitive category."
The SEJC conference was February 14-16 at Middle Tennessee State University in Murfreesboro, near Nashville. For the anchoring onsite category, Hendley was given about 10 minutes to read the script, and then he went on the air for about five minutes reading the script and doing a sign-off in a virtual newsroom. It was a mini-newscast with four or five local Tennessee stories, requiring him to switch from one camera to another after the anchor intro.
"It was neat to see another school's newsroom," Hendley said, "though I was not a fan of the virtual newsroom…of everything being painted green! But it was another great experience and an honor that I will always remember."
Abbie McIntosh, NewsWatch Ole Miss student manager, shared a second-place award with Scarpino in the onsite TV reporting team category. 
"Having Madison take home the top prize for Best TV Hard News Reporter made me so happy because I know how hard Madison works on her projects. I was able to witness the work that was put into the packages we submitted for SEJC and I was beaming with pride, not only as her friend, but as her student manager," McIntosh said. "And having Matthew take home Best TV Anchor made me grin from ear to ear. Matthew is such a character on the desk and I'm so glad everyone else realized that, too."
---
---
Introducing our 2018-2019 Student Media Leaders
Article by Ingrid Valbuena
Advertising Sales Manager: Rebecca Brown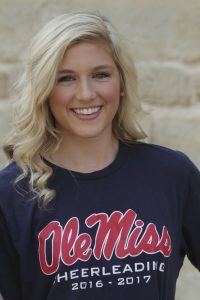 It took Becca Brown only three months to prove she was ready to be advertising sales manager for the Student Media Center.
Brown, a junior marketing major from Yoakum, Texas, is a former Ole Miss cheerleader. Her goal for this year: to increase the profitability of the SMC's publications, broadcasts and websites, and to increase the brand's recognition around campus and in Oxford.
"The most successful person in the company gets told no 95 percent of the time, but they are making more calls than anybody else," Brown said.
Roy Frostenson, SMC advertising adviser, describes Brown as focused, ambitious and goal-driven. "She's dedicated to helping the Student Media Center expand our advertising revenues, especially our digital and broadcast sales," Frostenson said.
Brown said a friend recommended she apply for a sales position, and she is glad she did. She supervises a staff of five account executives.
"My favorite part is that I'm really kind of treated like an adult when I go to my clients because a lot of times they don't realize that we are in college," Brown said.
"And that's something that I have never really gotten before in any other job. They treat me like I'm on the same level as them. They treat me with professionalism and I do the same with them.
"It's so rewarding working really hard on something and thinking of a pitch and working with the client and looking at what you think they would like and when they say yes, it makes all those little things so worth it."
Brown worked for the Edward Jones investment company in Texas last summer, and she hopes to return to work there next year. Her long-term goal is to open her own office as a financial adviser.
NewsWatch Station Manager: Abbie McIntosh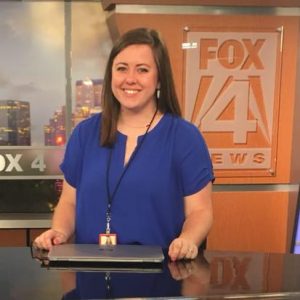 Abbie McIntosh is in her second year as station manager for NewsWatch Ole Miss. Rarely does a student serve two years in the top position.
"I was terrified this time last year," McIntosh says. "But it all worked out. It's been good. I like managing, calling the shots and producing. It's stressful but it's good."
Nancy Dupont, journalism professor and NewsWatch Ole Miss faculty adviser, said she was delighted McIntosh applied to be station manager again this year.
"She pushes herself harder than I ever push her," Dupont said. "She already has excellent habits, so I expect bigger and better things this year."
McIntosh is focusing on working with her team to deliver the best show possible Monday through Friday evenings. She is in charge of a staff that includes more than 30 producers, directors, anchors and correspondents. They are in the newsroom each afternoon producing a live, 30-minute newscast for Lafayette County that is broadcast on Channel 99 and is also available on websites and via livestreaming and social media.
"I hire them in September, and I want them to walk out in May better than they were when they walked in the door. Hopefully, I can help them achieve that," McIntosh said.
This senior broadcast journalism major from Cypress, Texas, is a big fan of breaking news and highlights the December 1, 2017, newscast as her all-time favorite. The award-winning show featured breaking news about sanctions against Ole Miss Athletics and its football team.
Earlier this year, McIntosh was awarded first place as Best Television Hard News Reporter from the Southeast Journalism Association, and she was part of a multimedia reporting team that placed in the Top 20 in the national Hearst journalism competition for a project about Oxford church members helping a Texas community recover after Hurricane Harvey. In October, she
was one of three broadcast students who traveled to Florida to report on rebuilding efforts after Hurricane Michael.
In summer 2018, McIntosh landed an internship with KDFW Fox 4 in Dallas. Her eyes were opened to all that it takes to get a newscast on the air and it strengthened her passion for the buzz of the newsroom.
When she graduates in May, McIntosh plans to work as a television producer.
The Daily Mississippian Editor-In-Chief: Slade Rand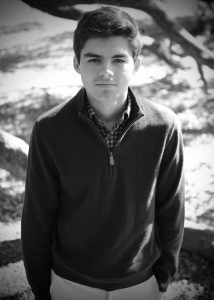 Since the day he was introduced to Assistant Dean Patricia Thompson at the Student Media Center, Slade Rand has been hard at work at The Daily Mississippian.
"She connected me with then managing editor Clara Turnage, who just brought me in right off the bat and told me to come along with her to an interview with the director of parking and transportation," Rand reminisces. "She helped me lead the interview and brought me to the office and told me to write the story, gave me suggestions and made a graphic to go along with my story and then put it in the paper."
Rand initially was an integrated marketing communications major, but switched to journalism at the end of his sophomore year when he realized how passionate he had become about reporting and writing. He honed his skills by participating in three depth reports in Mississippi and Sri Lanka, led by journalism instructor Bill Rose.
This year, Rand, now a senior, leads a staff that includes about 15 student editors and several dozen writers, photographers and editorial cartoonists.
"We want to be producing editions that people are going to keep with them and put on their walls," Rand said. "Not just because they look nice, but because it reminds them about things they can be doing to better our campus, things they can be doing to better their own lives."
Faculty adviser Thompson said Rand has put together a "dream team" of very talented editors who have done an outstanding job covering major breaking news stories in an unusually busy fall semester, and planning and producing special sections tied to important issues.
"Slade works very hard, for hours every day," Thompson said. "He's a strong editor who also can write well on tight deadlines, and he has great range from news to profiles to music reviews."
When Rand graduates in May, he plans to pursue a career doing what he loves best: storytelling. "Now that I have had a taste of this, I don't think there is another job I could do that would make me feel as satisfied or productive at the end of the day." 
The Ole Miss Yearbook Editor-In-Chief: MacKenzie Ross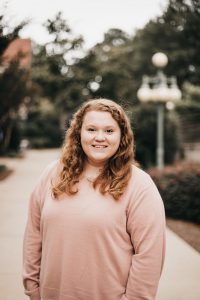 This Oxford native did not have to go too far away from home to find her passion. She found it at the Student Media Center.
"I already knew Professor Chris Sparks, and she told me about the Student Media Center so I came over," Ross said. "I got to meet some really cool people my freshman year. It was her interest in me that sparked my interest here."
Ross, yearbook editor-in-chief, wants to focus on the campus' hidden gems and continue increasing the online presence of the yearbook.
"We are focusing on the things you might forget," Ross said. "We are also excited to be back in the Student Union for portraits, getting students interested in coming into the Union to get a look before it officially opens to everyone."
Ross hopes students are keeping up the yearbook's social media networks, where content is frequently updated. Students can see photo galleries and stories that might not make it into the printed book.
Assistant Dean Patricia Thompson said Ross is a top-flight designer, a strong leader, and super organized. Ross's staff includes assistant editors, writers, photographers, designers and artists.
Thompson said it has been fun to watch how well student managers have worked together this year.
"MacKenzie is a senior who has worked for the yearbook and The Daily Mississippian, and those two staffs collaborate on stories and photos," Thompson said. "Abbie has worked for The Daily Mississippian and NewsWatch. One recent night, when she knew her DM colleagues would be here late producing a special report, Abbie brought them cookies to keep them energized. MacKenzie has designed an SMC T-shirt for all the students who work here."
Ross is president of the campus Society for News Design chapter. She also was part of the Hurricane Harvey team that placed in the Hearst competition, and she won SND awards for digital storytelling for the Harvey project and for her magazine cover for the Sri Lanka depth report.
Ross said her plans for her post-graduation future change almost every day, but she knows that as long as she has a career where she creates graphic designs that inspire others, she will be happy.
Rebel Radio Station Manager: DeAndria Turner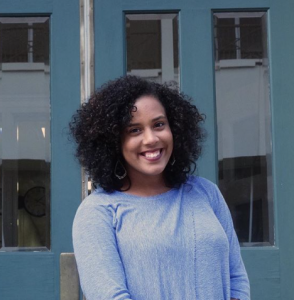 DeAndria Turner got her start in Rebel Radio in her freshman year. Turner, a junior broadcast journalism major, serves as manager of the entire station this year.
"She's a true Rebel Radio veteran and did a good job for us last year as News Director, so this was a natural move for her," said Rebel Radio adviser Roy Frostenson. "The best thing about DeAndria is she always wants to do better and I think she will help Rebel Radio be even better this year."
The Gautier, Mississippi, native wants to make Rebel Radio more known on campus to a wider variety of students. She is proud of the staff's diversity, in its staffing and in its programming, which features an eclectic variety of rap, oldies, underground, indie and even life-advice shows on 92.1 FM.
"I want our DJs and reporters to be able to be light in our community, to be able to play the music or have the segment they want to do because sometimes the right song and the right place and the right time could change your life," Turner said. "Music is just a really big thing."
To inspire and motivate her staff, Turner has placed dozens of colorful post-it notes on the radio studio window, with phrases like "We can't always choose the music life plays for us but we can choose how to dance to it" and "Enjoy small things."
Turner fondly remembers that during her freshman year, Leah Gibson was station manager and appreciated Turner's persistence. Today, it is one of the adjectives Turner uses to describe her strengths, and she is thankful to have been given the space to tell others' stories on Rebel Radio.
This past summer, during her internship with WMC Action News in Memphis, Tennessee, Turner gained experience working on the digital team, shadowing reporters and even doing her own reporting. It was an exhilarating experience, and Turner said the most important things she learned were to take initiative and stay flexibility in order to be a well-rounded reporter.
Turner plans to return to Rebel Radio as News Director during her senior year, as she prepares to get an on-air local news broadcast job after college.
---
DM Managing Editor Devna Bose Chosen for Reporting Workshop in Washington, D.C.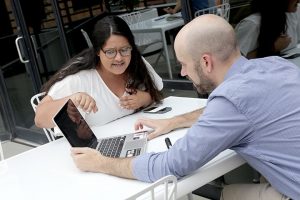 Devna Bose, Meek School journalism major and Daily Mississippian Managing Editor, was selected by the Chronicle of Higher Education for its reporting workshop in Washington, D.C. During the workshop, which took place on September 6 and 7, Devna networked with talented editors and student journalists from all over the nation, and learned tips for reporting about higher education, like how to read find and read college form 990s. The Chronicle paid all expenses for the students selected.
"I applied not only because I was eager to improve my own reporting skills, but also to discover resources to bring back to the Daily Mississippian newsroom," Devna said. "I learned a multitude of things that will allow me to more efficiently serve the LOU community as a journalist."
In the photo at the top, she is getting help finding resources for a story from one of the Chronicle editors. The photo below is of all the students participating in the workshop.
---
UM Students Win SEJC championship
University of Mississippi students won 25 awards in two major regional contests this past weekend, and were named the 1st Place Journalism Champions for the on-site competitions.
The Southeast Journalism Conference 32nd annual convention was February 15-17 at Harding University in Searcy, Arkansas. SEJC has more than 40 member universities in seven southeastern states, and sponsors two contests. The Best of the South contest recognizes the best student journalist work published or broadcast in 2017. In this year's contest, there were 412 entries from 30 universities. Each UM entry consisted of several examples of student and staff work, from The Daily Mississippian, NewsWatch Ole Miss, Rebel Radio, internships and published projects.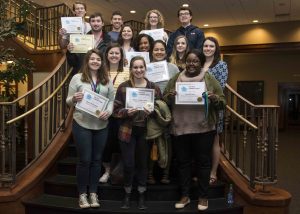 The on-site competitions are held during the conference, and students in attendance compete against one another to produce content on deadline in 15 separate categories. Harding reported that 170 students competed in the on-site competitions this year.

Meek School of Journalism and New Media students won five first-place awards. In the onsite competitions, first places were won by Devna Bose for arts and entertainment writing; Marlee Crawford, for sports photography; and Ethel Mwedziwendira, for current events. In the Best of the South contest, Abbie McIntosh won first place for Best TV Hard News Reporter, and Thomas DeMartini and Austin Hille teamed to win Best Broadcast Advertising Staff Member.
Other awards won by UM students:
Second places in Best of the South: Lana Ferguson, Best News Writer; Lana Ferguson, Best Feature Writer; Madison Heil, Best Journalism Research Paper; Erin Pennington, Best Radio Hard News Reporter.
Second places in the o-site competitions: Hayden Benge for newspaper design; Clifton Carroll for public relations; Marisa Morrissette for media history/law/ethics.
Third places in Best of the South: Jake Thrasher, Best News-Editorial Artist/Illusterator; DeAndria Turner, Best Radio Journalist; NewsWatch Ole Miss, Best College TV Station. NewsWatch is a live, daily newscast, compared to some others in the competition which are weekly recorded and edited shows.
Third places in the on-site competitions: Matthew Hendley for TV anchoring; DeAndria Turner for radio reporting.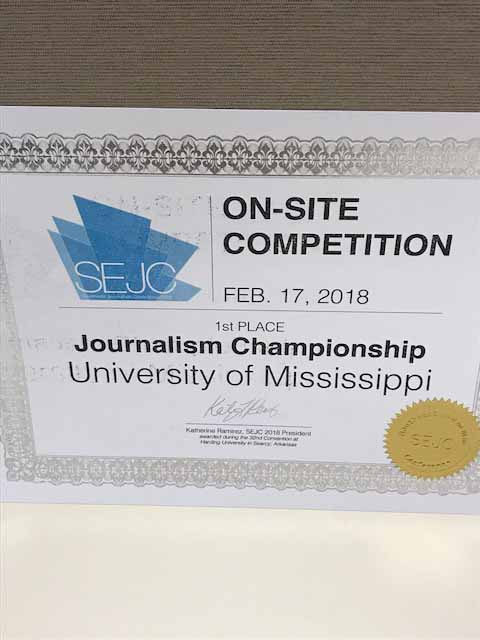 In the Best of the South contest, some of the categories – especially the newspaper categories – attract more than 30 entries each and awards are given out up to 10th place. Other UM students/staffs who placed in Best of the South: The Daily Mississippian, a daily newspaper competing against student newspapers published weekly or semiweekly, won fourth place for Best College Newspaper; Marlee Crawford won fifth place for Best Press Photographer; NewsWatch Ole Miss won fifth place for Best College News Video Program; Devna Bose won sixth place for Best Arts and Entertainment Writer; Ethel Mwedziwendira won seventh place for Best Newspaper Page Layout Designer; Hayden Benge won eighth place for Best Newspaper Page Layout Designer; Grant Gaar won eighth place for Best TV News Feature Reporter; Liam Nieman won eighth place for Best Opinion-Editorial Writer.
Fifteen UM students traveled to Arkansas to participate in the onsite categories, accompanied by Meek School Assistant Dean Patricia Thompson, who oversees all of the Student Media Center.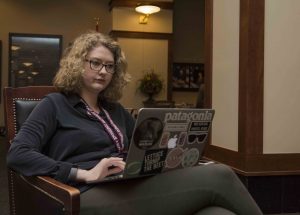 "Year after year, our students excel in both the Best of the South and the on-site competitions," Thompson said. "Some of them are in our newsroom for many hours each day, five days a week. They use what they learn in classes to produce outstanding work, and they do so not just to gain practical experience for internships and jobs, but also because they are passionate about keeping the campus and community informed about events and issues."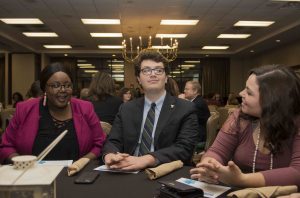 This is the sixth time in the past eight years that UM students have won SEJC's on-site journalism grand championship award. University of Mississippi students were ineligible to compete in the on-site contest last year because the Meek School of Journalism and New Media was the host for the 2017 conference in Oxford.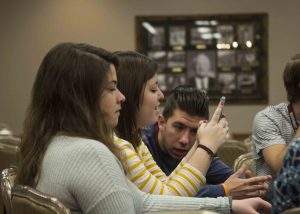 SEJC's Friday night awards banquet speaker was Sonia Nazario, who won a Pulitzer Prize for feature writing and other national awards for "Enrique's Journey" when she was a Los Angeles Times staff writer and is now an author, activist and frequent New York Times contributor. The conference did not have an overall theme, but it included workshops and panels focused on digital content, engaging audiences, broadcast storytelling, yearbook journalism, how to cover campus hazing issues, photojournalism, design, and a look back at the Little Rock Nine and the role journalists play in documenting stories about marginalized people.
---
SMC student selected for national multimedia project investigating hate crimes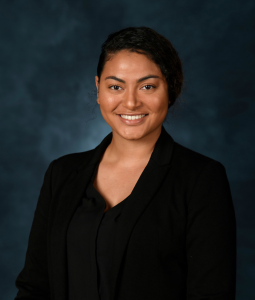 Meek School major Brittany Brown is one of 26 students from 19 universities selected to participate in a major national investigation into hate crimes in the U.S. as part of the 2017 Carnegie-Knight News21 multimedia reporting initiative.
Brittany is a junior from Quitman, majoring in broadcast journalism with a minor in Spanish. She is in the Sally McDonnell Barksdale Honors College and a digital content producer, anchor and correspondent for NewsWatch Ole Miss. She was an intern at WTOK-TV in Meridian and a research intern in the Ronald E. McNair Post-Baccalaureate Summer Research Program, and she is co-president of the University of Mississippi Association of Black Journalists.
Headquartered at Arizona State University's Walter Cronkite School of Journalism and Mass Communication, News21 was established by the Carnegie Corporation of New York and the John S. and James L. Knight Foundation to demonstrate that college journalism students can produce innovative, in-depth multimedia projects on a national scale.
Students from journalism programs across the U.S., as well as Canada and Ireland, will join Cronkite students for the 2018 investigation. They will examine the major issues surrounding hate crimes in America.
The students are participating in a spring semester seminar in which they are conducting research, interviewing experts and beginning their reporting. The seminar is taught in person and via video conference by Leonard Downie Jr., former executive editor of The Washington Post and Cronkite's Weil Family Professor of Journalism, and News21 Executive Editor Jacquee Petchel, a Pulitzer Prize-winning journalist and former senior editor for investigations and enterprise at the Houston Chronicle.
"We chose hate crimes and hate incidents as this year's timely News21 topic because of the apparent increase throughout the country of such acts – from bullying and vandalism to assaults and murders – involving racial, religious, nationality, gender and sexual orientation bias," Downie said.
Following the seminar, students move into paid summer fellowships, during which they work out of a newsroom at the Cronkite School in Phoenix and travel across the country to report and produce their stories.
"We will be able to do what many newsrooms cannot, which is to deploy dozens of student journalists to investigate the culture of hate and related acts of violence in every state in the nation," Petchel said. "Not only do recent attacks on people of different races and religions call for it, it is the right thing to do in the name of public service journalism."
Over the past eight years, Carnegie-Knight News21 projects have included investigations into voting rights, post-9/11 veterans, marijuana laws and guns in America, among other topics. The projects have won numerous awards, including four EPPY Awards from Editor & Publisher magazine, the Student Edward R. Murrow Award for video excellence, and a host of honors from the Society of Professional Journalists and the Hearst Awards Program, considered the Pulitzer Prizes of collegiate journalism.
Cronkite fellows will be named later this semester. In addition to the Meek School of Journalism and New Media at the University of Mississippi, the other universities are:
· DePauw University, Greencastle, Indiana
· Dublin City University, School of Communications, Dublin, Ireland
· Elon University, School of Communications, Elon, North Carolina
· George Washington University, School of Media and Public Affairs, Washington, D.C.
· Indiana University, The Media School, Bloomington, Indiana
· Kent State University, School of Journalism and Mass Communication, Kent, Ohio
· Louisiana State University, Manship School of Mass Communication, Baton Rouge, Louisiana
· Morgan State University, School of Global Journalism and Communication, Baltimore, Maryland
· St. Bonaventure University, Jandoli School of Communication, St. Bonaventure, New York
· Syracuse University, S. I. Newhouse School of Public Communications, Syracuse, N.Y.
· University of British Columbia, Graduate School of Journalism, British Columbia, Canada
· University of Colorado Boulder, College of Media, Communication and Information, Boulder, Colorado
· University of Iowa, School of Journalism and Mass Communication, Iowa City, Iowa
· University of North Texas, Mayborn School of Journalism, Denton, Texas
· University of Oklahoma, Gaylord College of Journalism and Mass Communication, Norman, Oklahoma
· University of Tennessee, School of Journalism & Electronic Media, Knoxville, Tennessee
· University of Texas at Austin, School of Journalism, Austin, Texas
The John S. and James L. Knight Foundation provides core support for the News21 program. Individual fellows are supported by their universities as well as a variety of foundations, news organizations and philanthropists that include the Ethics and Excellence in Journalism Foundation, Hearst Foundations, Donald W. Reynolds Foundation, International Ireland Funds, The Arizona Republic, The Dallas Morning News, Myrta J. Pulliam, John and Patty Williams, and Louis A. "Chip" Weil.
---
Former Daily Mississippian Editor Clara Turnage Wins Chronicle's Miller Award for Young Journalists
Clara Turnage, who graduated from the University of Mississippi in May, has won The Chronicle's 2017 David W. Miller Award for Young Journalists, which is presented annually to the top intern who worked at The Chronicle during the previous year.
The $3,000 award, now in its 15th year, recognizes Ms. Turnage for articles she wrote during her internship this past summer. She is now a reporter at The Natchez Democrat, in Natchez, Miss., where she covers education and crime.
Members of the committee that chose Ms. Turnage for the award cited her for the diversity of the three articles she had submitted for consideration, showing her talent for breaking-news, enterprise, and investigative journalism. Committee members also noted her writing style, marked by vivid language, a strong sense of structure and tempo, and, in one case, a willingness to simply let documents speak for themselves.
One article, filed from Charlottesville, Va., described the violence that struck the University of Virginia's hometown when white supremacists, gathering for a rally, clashed with counterprotesters over plans to remove the statue of a Confederate general.
Ms. Turnage had traveled to Charlottesville to report for a different article, but she quickly shifted from that story to the one unfolding in the streets. She not only filed a series of lucid dispatches under deadline pressure but also took photographs, including one showing a balding counterprotester, carrying a cane and an umbrella, who is sprawled on the ground as he is beaten by club-wielding young toughs.
The award commemorates David W. Miller, a senior writer who was killed by a drunken driver while returning home from a reporting trip.
She was also recognized for a lengthy article exploring why the provost of Texas A&M University at College Station had been fired, in July. The answer was not clear. Among the possible reasons were an audit report that found a possible conflict of interest involving the provost's spouse, a difference of opinion between the provost and the chancellor, and mysterious "enemies" at the university.
Ms. Turnage pursued the story tenaciously and provided The Chronicle's reader with hints even as a definitive answer eluded her. The committee said she must have walked a legal tightrope in trying to find out what had happened, and had structured the story so as to sustain readers' interest until the end.
Finally, she was honored for an article about the unusually difficult mental-health challenges facing international students on American campuses. Many such students, taking pressure-packed course schedules and coming from cultures that still stigmatize mental illness or even regard it as fiction, are reluctant to seek help.
She handled this sensitive topic, in part, by winning the confidence of a Chinese student who was recovering from depression and anxiety and who was willing to provide a window into her struggles. The article also described how colleges are trying to help such students. In an interview, Ms. Turnage called this story "the highlight" of her internship.
While a student, Ms. Turnage worked at The Daily Mississippian, the student newspaper, rising to editor in chief. She majored in journalism, with a minor in computer science.
She says she likes working now at The Natchez Democrat, where she writes two to four articles a day, because of "the impact of a community newspaper on its city." Community newspapers' personal contact with local people results in better journalism than can usually be gleaned from telephone interviews, she says.
The Miller Award commemorates David W. Miller, a senior writer at The Chronicle who was killed in 2002 by a drunken driver while returning home from a reporting trip. Mr. Miller, who was 35, left a wife and two young children.
In presenting the award, the Chronicle committee seeks to identify promising young journalists who exemplify the traits and values that Mr. Miller brought to his journalism: a passion for people and ideas, a zeal for good writing, and a commitment to balance and fairness.
– From The Chronicle of Higher Education
---
Ole Miss students win 18 awards, first for Public Service Journalism at Southeast Journalism Conference
University of Mississippi students earned 18 awards at the Southeast Journalism Conference awards ceremony Friday night, including a first-place honor for Public Service Journalism for The Daily Mississippian's "The Red Zone" special edition.
Daily Mississippian Editor-in-Chief Clara Turnage led the award-winning project during fall 2016. It highlighted the issue of sexual assault, which Turnage said she felt was under-reported on campus. She said many of the editors and reporters she worked with wanted to tell the stories of sexual assault that happened on their campus and in their communities.
"It's an incredible honor to receive this award, and I couldn't be prouder of my staff," Turnage said. "They are so talented, and I am so blessed to work with them."
The University of Mississippi Student Media Center hosted this year's conference. Its theme was "Spotlight on Storytelling: Watchdog Journalism in a Mobile World." Meek School Assistant Dean Patricia Thompson was this year's SEJC president.
H. Will Norton, dean of the Meek School of Journalism and New Media, said he was truly proud of the Ole Miss students who participated in the conference.
"Assistant Dean Thompson and her staff and the students of the Student Media Center provided a wonderful weekend for those attending and communicated excellence to everyone who attended," Norton said.
Conference speakers included Meek School faculty and journalists – including alumni – from The New York Times, Clarion-Ledger, ESPN's The Undefeated, the Associated Press, Mississippi Today, Mississippi Public Broadcasting, E.W. Scripps, and other media companies.
The Best of the South contest honored work published or aired between mid- November 2015 and mid-November 2016. There were entries from 29 universities across seven southeastern states.
Turnage won second place in the prestigious College Journalist of the Year category. She was awarded a plaque and $500.
Daily Mississippian Managing Editor Lana Ferguson won first place for magazine writing, and DM Lifestyles Editor Zoe McDonald won first place for feature writing.
Second-place awards included: Hayden Benge, page design; Billy Rainey, radio reporting; Lauren Veline, journalism research paper.
Third-place awards included: Lauren Layton, TV feature reporting; Daniella Oropeza, TV hard news reporting; Clara Turnage, special event reporter; Lana Ferguson, news writing; Marisa Morrissette, graphic design; Jake Thrasher, editorial artist.
Other individual winners included: Julia Grant, fourth place, op-ed writing; Ellen Spies, fourth place, advertising; Brian Scott Rippee, eighth place sports writing.
The Daily Mississippian, the only daily newspaper in the contest, won fifth place as best newspaper, and theDMonline.com won third place for best website. NewsWatch Ole Miss, a daily live newscast, won fifth place as best TV station.
The Southeast Journalism Conference also includes onsite competitions, where students competed in 15 categories to produce content with tight deadlines. Georgia State University took first place in the Grand Championship Team Category. Belmont University and Southeastern Louisiana University tied for second place. As the host university, Ole Miss could not participate in onsite competition.
Middle Tennessee State University tied for fifth place in the Grand Championship Team Category this year. Faculty adviser for the MTSU paper Sidelines Leon Alligood said his students have been to five SEJC conferences together.
"We come every year," Alligood said. "I liked the wide variety of speakers, and the Fake News program was excellent this year. …My expectations were high, and I'm happy to say they were met."
Bryce McNeil, assistant director of student media at Georgia State University, hosted the conference two years ago in Atlanta.
"I was especially overwhelmed by how positive the speakers were in spite of so many clashes in the media," McNeil said.
He said this year he brought 29
students to Oxford, which is the biggest group yet to represent Georgia State at SEJC. He said these conferences have a lot to offer to journalism students.
"First, the camaraderie is invaluable," McNeil said. "And they leave knowing their profession really does matter."
McNeil awarded Thompson a plaque of appreciation for her work as SEJC president. He said simultaneously running all the weekend's events is very difficult, but Thompson did fantastic work during a fantastic conference.
Harding University will host the next SEJC in 2018. Faculty adviser Katie Ramirez said this was her program's first time visiting Oxford.
"I think they're all ready to move here," she said. "It's beautiful."
Thompson said among the highlights for her during the conference were Jerry Mitchell's keynote banquet speech, the support and help from Meek School faculty and other departments on campus, and the recognition of Ole Miss students' work.
"They are full-time students who work as journalists for hours every day and night because they care about our campus and community," Thompson said.
---
Spotlight on 2016-2017 Student Media Leaders
Upon meeting Leah Gibson at a conference in Washington, D.C., former Chancellor Robert Khayat and Meek School Dean Will Norton knew she would be an asset to the University of Mississippi. Gibson was a high school student at the time, and they recruited her.
"After meeting them at the conference and learning about the programs available here, I then visited Ole Miss and fell in love with the station and all the opportunities I'd be able to have," Gibson said.
Gibson, a senior from Starkville, is majoring in broadcast journalism. In her freshman year, she auditioned for Rebel Radio and was hired as a DJ. She auditioned for NewsWatch and landed a role as a correspondent. Last year, she was a news correspondent for Rebel Radio. This year, in addition to serving as student manager for Rebel Radio, she is also a NewsWatch anchor.
Gibson worked at Mississippi Public Broadcasting in Jackson as a radio news reporter this summer. She covered Mississippi current events, race relations, education and politics.
"I'm excited to see where Leah will take Rebel Radio in her year as station manager," said Roy Frostenson, student media assistant director and adviser for the radio station. "She is a terrific leader, very organized and detail-oriented. She has a great amount of energy and enthusiasm and a lot of great ideas for the station. She does a good job of sharing her vision for the radio station and it's easy to get excited about the future listening to her talk about Rebel Radio."
Gibson's plans for this year include more big events, talk shows, and much more.
"I want to do a campus spotlight where I have interviews coming in every week, giving people direct connection to the station," Gibson said. She is creating a training manual for her staff, and she produced a training video for the DJs.
Gibson is passionate about music, saying that the right song can change a person's mood, and she wants to be sure Rebel Radio gives that to its listeners.
"I really want 92.1 Rebel Radio to be a hot topic on campus. I want people to know exactly who we are, what we play. I want people to have a favorite show that they listen to, for people to be excited about everything that we do."
Gibson manages to do her radio and TV work in addition to her many other activities on campus, such as serving in the Columns Society and as an orientation leader. She was Miss Meridian in this year's Miss Mississippi pageant, where she placed in the top 15 and won a talent award and was a finalist in the quality of life competition.
Gibson will pursue a career in broadcast journalism or radio, and thanks the SMC for preparing her for her future.
"The SMC has provided me with numerous opportunities to meet people, to learn, and to better my craft. It gives you experience in the field which I feel is much more valuable than sitting in a classroom listening to a lecture."
NewsWatch Ole Miss Manager: Payton Green
Payton Green had no idea what he was getting himself into when he joined NewsWatch his freshman year.
"I assumed it was a fun after-school activity. I didn't realize that this was kind of a big deal. I first heard about NewsWatch in Journalism 101, and then I heard about it again in Freshman Convocation, so I decided to join. I figured it was just a bunch of kids putting on a news show."
Now a senior, the broadcast journalism major from Pascagoula says he quickly realized that it was much more than that.
"I was so scared on my first day," he said, laughing.
Fast forward a few years. Green recently traveled to New Orleans to accept a first-place national award for multimedia reporting from the Society of Professional Journalists. Green was part of a team of Meek School students who won the award for their coverage of the 10th anniversary of Hurricane Katrina on the Gulf Coast.
"Payton has a great future, and we're so privileged to have him with us this semester," said Nancy Dupont, professor of journalism and NewsWatch adviser. "In many ways, Payton is the ideal student news manager because he is more concerned with developing his staff than he is with promoting himself. He's assembled a great team, and he's already showing strong leadership skills."
Green worked as an anchor for NewsWatch for two years before becoming News Director, and fell in love with producing and "the behind-the-scenes thing." He is serving as NewsWatch manager, in charge of the entire newscast, for fall semester 2016.
Among the improvements Green has already made this year: new titles and job descriptions for his staff, an emphasis on more social media interaction, more local news and campus coverage, and more live shots from the field and the newsroom.
Green's favorite part of the SMC is seeing his student colleagues' hard work pay off in a dream job. But he points out that it is not all hard work and no play at the SMC. Some of the goofiest moments end up giving them more insight into new ways to branch out on their show, he says.
"When people audition at the beginning of the year, we are there until late at night working long hours which really allows us to bond. During a break one night we began blasting an EDM (electric dance music) song that has a really great drop, and began dancing around and decided to Facebook Live film it. The video got 700 views! We had already been planning on starting to do Facebook Live videos, which are great because you are really able to see how well we are doing."
Green interned at WLOX-TV on the Gulf Coast this past summer. When he graduates in December 2016, he plans to get a job as a TV producer in local news. He would love to someday be a producer for Dateline or 60 Minutes. He is grateful to the SMC for giving him the skills to pursue his dreams.
"If I hadn't come here, I don't know what I would be doing. If I hadn't been producing this newscast, I wouldn't have gotten those internships. It's helped me learn what I want to do. It's also given me the opportunity to meet and work with very talented people."
The Ole Miss Yearbook Editor: Cady Herring
As she embarks on her year as Yearbook Editor, Cady Herring is no stranger to the SMC.
Herring began as a freshman photographer for The Daily Mississippian, and later became DM photo editor. Last spring semester, she was co-photo editor of the yearbook.
"I love news journalism and storytelling, and I believe that the yearbook is the perfect platform to creatively and eloquently document this year," Herring said.
Herring, a senior from Memphis, is a double major in print journalism and international studies, with a minor in Spanish. She has participated in several multimedia journalism projects during her years at the Meek School, in the Mississippi Delta and in Ethiopia. She has studied abroad twice in Africa and once in South America.
This summer Herring spent a month in Tanzania in East Africa as the media intern for UM professor Laura Johnson's National Geographic Society grant, Faces of the Mountain.
"We circumnavigated villages around Mt. Kilimanjaro to finish the grant by conducting surveys and project videos," Herring said. "I was in charge of setting up African-style movie theaters, making sure all the equipment worked, and shooting photos and video."
She is currently communicating with the media team in Tanzania to edit final videos and working with National Geographic editors to submit content.
"Working in Tanzania forced me to think innovatively to accomplish tasks that would be easy in the U.S., but almost impossible there," Herring said. "The cultural and linguistic barriers were onerous, but I loved the challenge. I carry duct tape with me everywhere now!"
Student Media Assistant Dean Patricia Thompson noted that Herring has won national and regional awards for her photography and writing, including placing in the prestigious Hearst national journalism competition.
"Cady is one of those students who can do everything well, which makes her a natural for a job as yearbook editor," Thompson said. "She is one of the most creative journalists I have ever met. Her photography in the Ethiopia depth report was stunning. I can't wait to see the yearbook she leads her staff to produce."
Herring wants to use the yearbook to bring students together this year.
"The Student Media Center has provided me with such an invaluable education that I wouldn't be able to receive anywhere else," Herring said. "It's my plan to structure our staff like a team to foster that experience for other ardent students, so that this book will be a celebration of the amazing talent UM has to offer." She and her staff are hard at work creating their theme and cover design, and they are planning events to reveal the theme later this fall.
"I want to make this yearbook extremely literary and artistic to highlight our campus, our students, and really show who we are as a University today, and I have an amazing staff to do it," Herring said. "This year, we're pushing the limits by redesigning the website to use unexpected technologies to more comprehensively present stories. We're searching for contributors from every area of campus to have frequent content that ranges from high fashion to campus politics, so that it will be an information hub to keep up with the campus and Oxford. This yearbook will be for everyone."
Herring graduates in May 2017, and is applying for internships and fellowships. She's doing research this fall for her thesis about the relationship between the media and migrants, and hopes to continue using her storytelling skills in a career as an international documentary journalist.
Overby Center Senior Fellow and Meek School instructor Bill Rose is a writing coach for the yearbook staff. He has worked with Herring on several Meek School in-depth projects.
"Cady Herring is a young woman with a big heart for the less fortunate and a big talent for photos that capture people's souls," Rose said. "Her work in Africa, South America and the Delta demonstrate a strong sense of empathy and understanding for people of other cultures."
Advertising Sales Manager: Ben Napoletan
Making the decision to give the top advertising job this year to Ben Napoletan was easy.
"Ben was one of our top sales account executives last year and so he was a natural choice for sales manager this year," says Roy Frostenson, student media assistant director in charge of advertising. "He earned his spot with his great work last year."
Napoletan is a senior majoring in finance with a minor in marketing. He is from Alpharetta, Georgia.
"Managing and growing account lists is the main duty of the job," Napoletan says. "Since I am the manager this year, I mainly focus on providing my team with leads, organization, and maintaining my current accounts. Contacting my accounts and presenting them with current promotions and convincing them to advertise more is my goal with those accounts."
This summer, Napoletan interned with Nissan Motor Company in its southeast regional headquarters in Atlanta. He worked on analytical projects ranging from after-sales forecasting to dealership incentive programs.
He says his favorite part of his SMC manager job is meeting monthly and annual sales goals. If they aren't met, it just gives him even more motivation to work harder for the next month.
"Sales has a scorecard, so the only thing that matters is how much revenue we bring in. It doesn't matter if it is from one business or 100 businesses, as long as we earn the most money possible, that is the goal," he says.
Napoletan and his staff are creating video advertisements this year for the first time. And he is making his team work more efficiently by using call lists, which help his team avoid calling the same people twice.
"Ben is extremely organized and he's brought that mindset to his job as sales manager and is working to make our sales operation more efficient and productive," Frostenson says. "He's a hard worker who puts in the time necessary to be successful and sets a great example for our sales team."
Napoletan plans to seek a sales job when he graduates in May 2017. Long term, he wants to be VP of sales for a Fortune 500 company.
Daily Mississippian Editor in Chief: Clara Turnage
Clara Turnage knew on the first day of her freshman orientation in 2013 that she wanted to be involved with the Student Media Center. And even then, the persistence that makes her an outstanding reporter was evident.
"I remember hearing about the DM at the first day of orientation, so I went by that day but no students were there. So I went back again and told them that I wanted to write and get involved," Turnage recalls.
The Sunday before the first day of classes, Turnage got a call from the DM editor in chief, giving her an assignment. Two days later, Turnage had a front-page byline. She was hooked.
Turnage is a senior from New Hebron, majoring in print journalism. Her minor is an unusual one for a journalist: computer science.
" I became interested in computer science when Professor Deb Wenger asked if I would like to be in an Engineering Honors class that focused on the history of media systems," Turnage says. "The class doubled as a computer science elective and the professor told me I should consider CS as a minor. I enjoyed what little coding we did in that class, and I valued the marketable skill I would receive with a computer science minor. So I decided to go with it." It's a skill she uses frequently to create timelines, website designs and other graphics.
Turnage says she loves seeing her staff of writers and editors grow as journalists. She started at the DM as a writer and photographer her freshman year. In her sophomore year, she was promoted to lifestyles editor. She was promoted to managing editor at the end of her junior year, and that summer she also served as news editor and designer.
Patricia Thompson, DM adviser and assistant dean for student media, has worked with Turnage every day for several years. Turnage is one of the best young journalists she's ever seen.
"She is a fearless reporter, a gifted writer, a strong leader," Thompson says. "On the outside, she seems sweet, and she IS kind and fair and thoughtful, but make no mistake, when it comes time for toughness, she has the 'fire in the belly' that I always see in the best journalists. I have seen her doggedly pursue stories others would have given up after a few rejections. Clara's work and influence and commitment have been a major reason for The Daily Mississippian's success in recent years."
For the past two years, The Daily Mississippian has been named by the Society of Professional Journalists as one of the top three daily campus newspapers in the nation. In addition, Turnage has won several awards for her writing.
This past summer, Turnage was a copy editor intern for the Arkansas Democrat-Gazette in Little Rock. The newspaper has one of the most sought-after internships in the country, receiving hundreds of applications for just a few spots.
So far this year, Turnage has led a major redesign of The Daily Mississippian, and increased its social media and digital media presence. In mid-August, she led a new training program for her staff.
It's her last year at Ole Miss, and Turnage reflects on her time at the Student Media Center as a blessing.
"I spend a great deal of my time here. It is because of the SMC that I've had every internship and job that I've had. If you put in a little here, I promise you'll get a lot out of it."
At the start of fall semester, Turnage bought an air mattress sofa and often can be found sitting or lying on it, discussing stories with her staff or just hanging out with them as they wait for stories and photos to arrive for editing.
While they have fun in and out of the newsroom, Turnage says that she and her team work hard to tell the University's story in full – the good and the bad. They take seriously their mission to serve as campus watchdogs and to provide a forum for the exchange of ideas and information.
"The University is going through a time that is very stressful," Turnage says. "There's a lot of change happening on campus. I want to cover that to the best of my ability, while being as unbiased as possible. That is something we struggle with constantly. I am looking forward to continuing to cover in-depth stories that make our writers better and our newspaper better. "
Turnage will graduate in May 2017. Like most other students, she is applying for jobs and internships at media companies in many states, but she adds: "There's a lot of opportunity for news gathering in Mississippi. I'm very interested in that, too. I think Mississippi is one of those states that would benefit most from skilled reporters staying where they are."
By Mary Ruth Womble